Ведьмы. Графика и живопись.
развернуть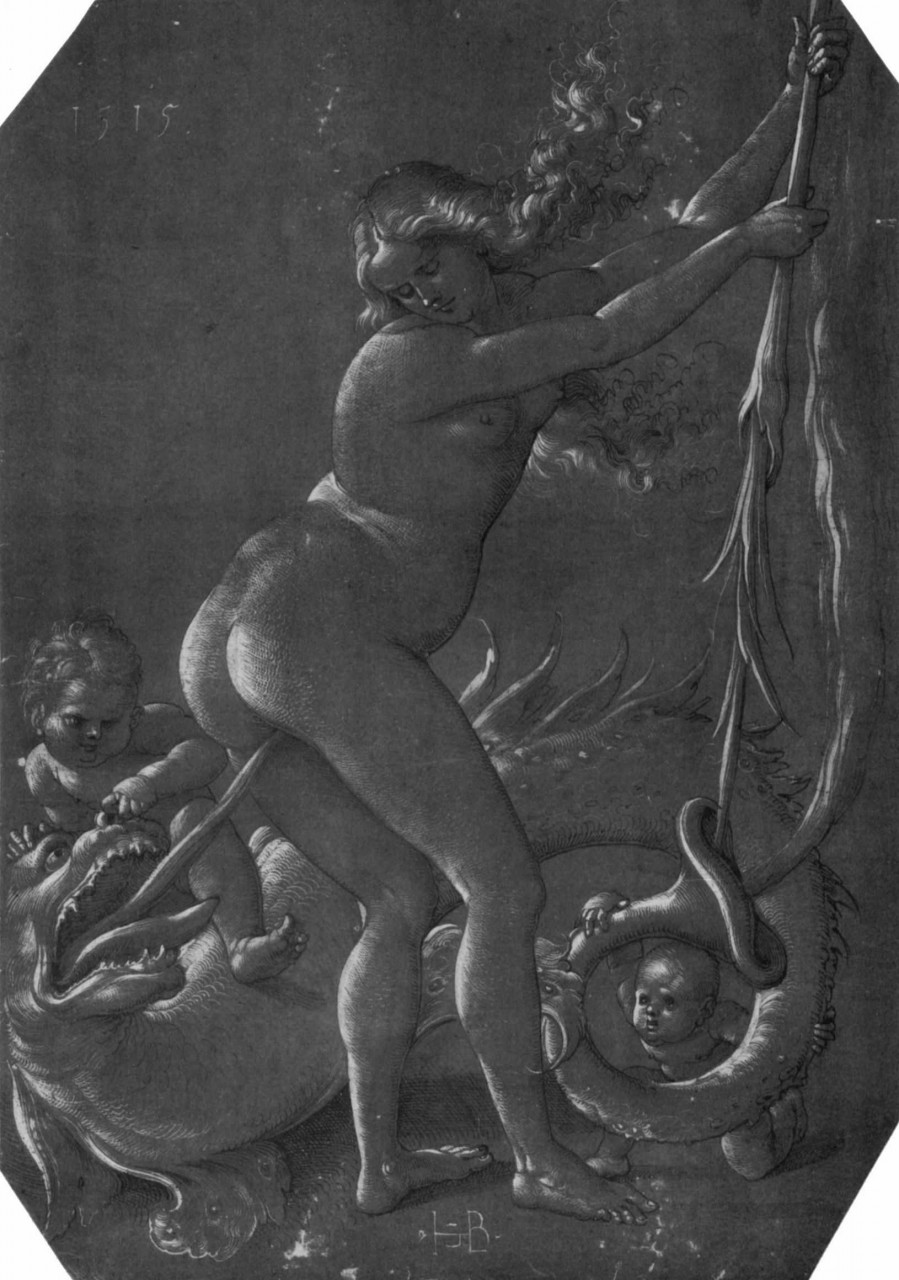 Ведьма с монстром 1515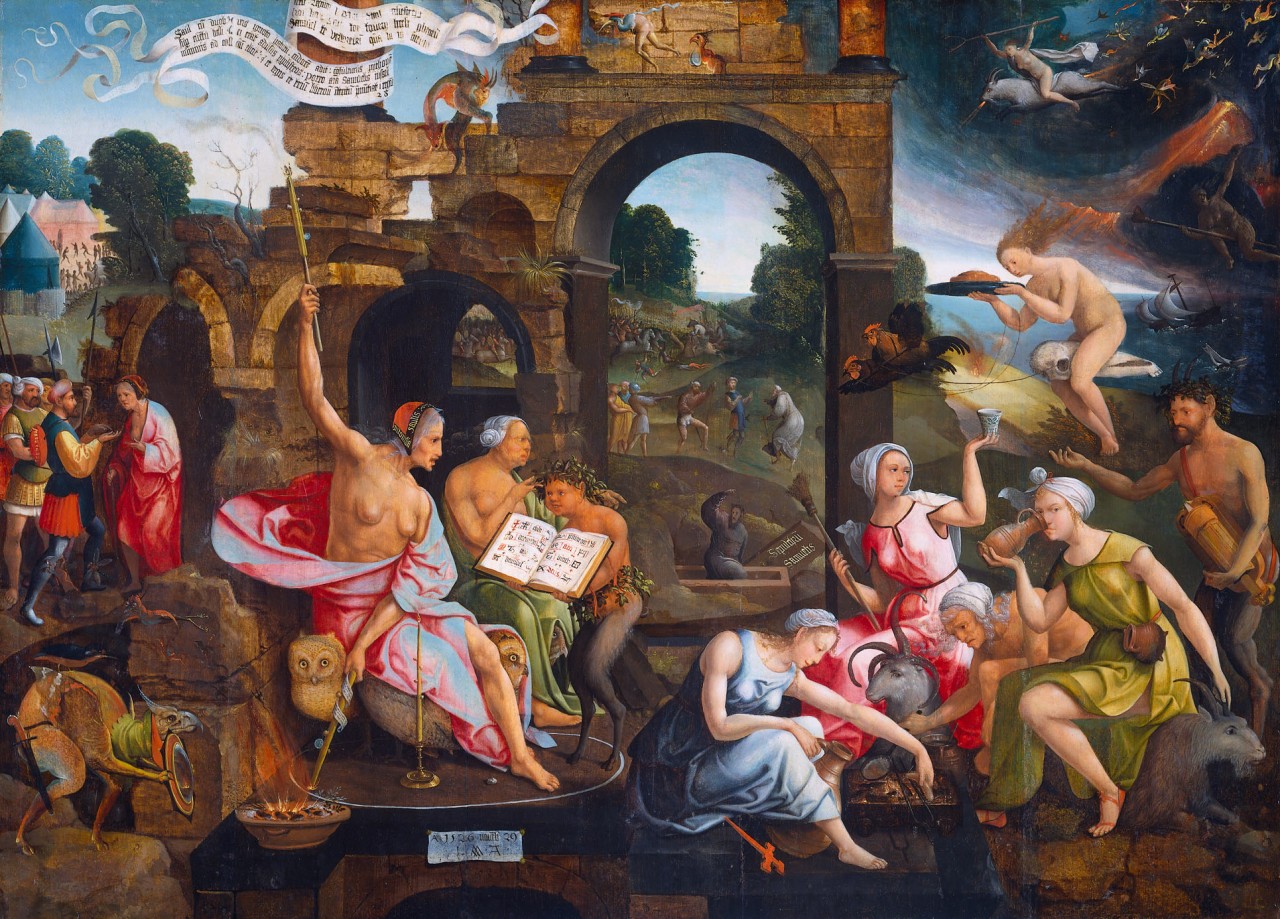 ( Collapse  )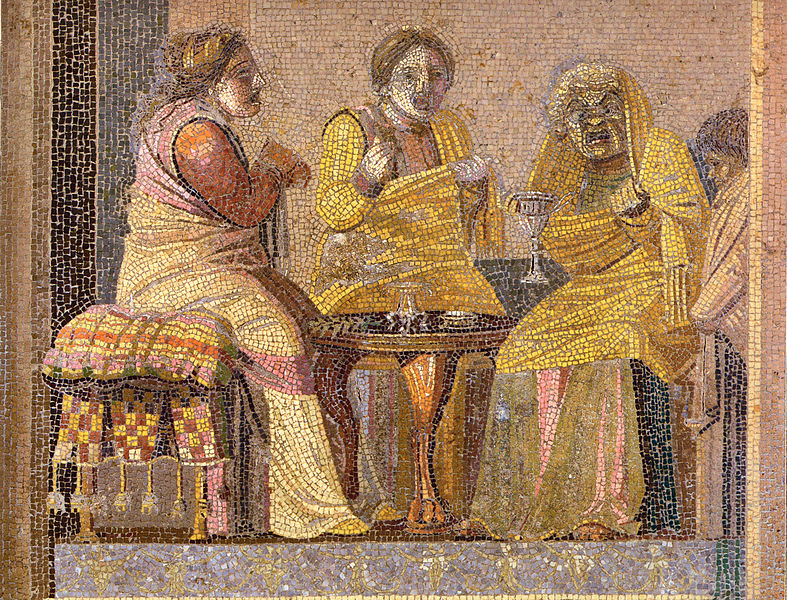 Theatre scene: two women making a call on a witch (the three of them wear theatre masks). Roman mosaic from the Villa del Cicerone in Pompeii, now in the Museo Archeologico Nazionale (Naples). Work of Dioscorides of Samos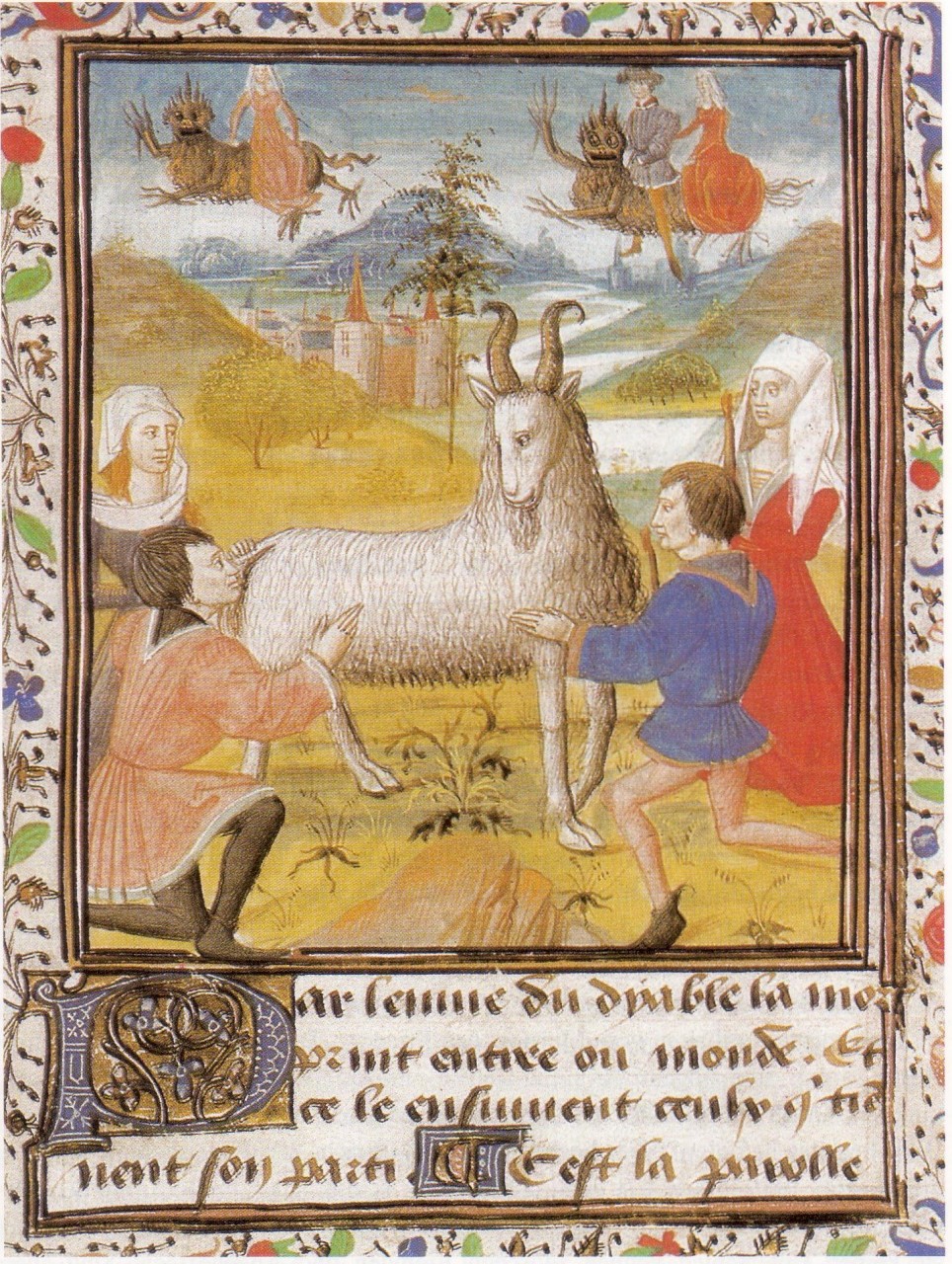 Hexen/Waldenser verehren einen Zigenbock (Hexensabbat), Miniatur aus: Du Crisme de Vauderye, 1460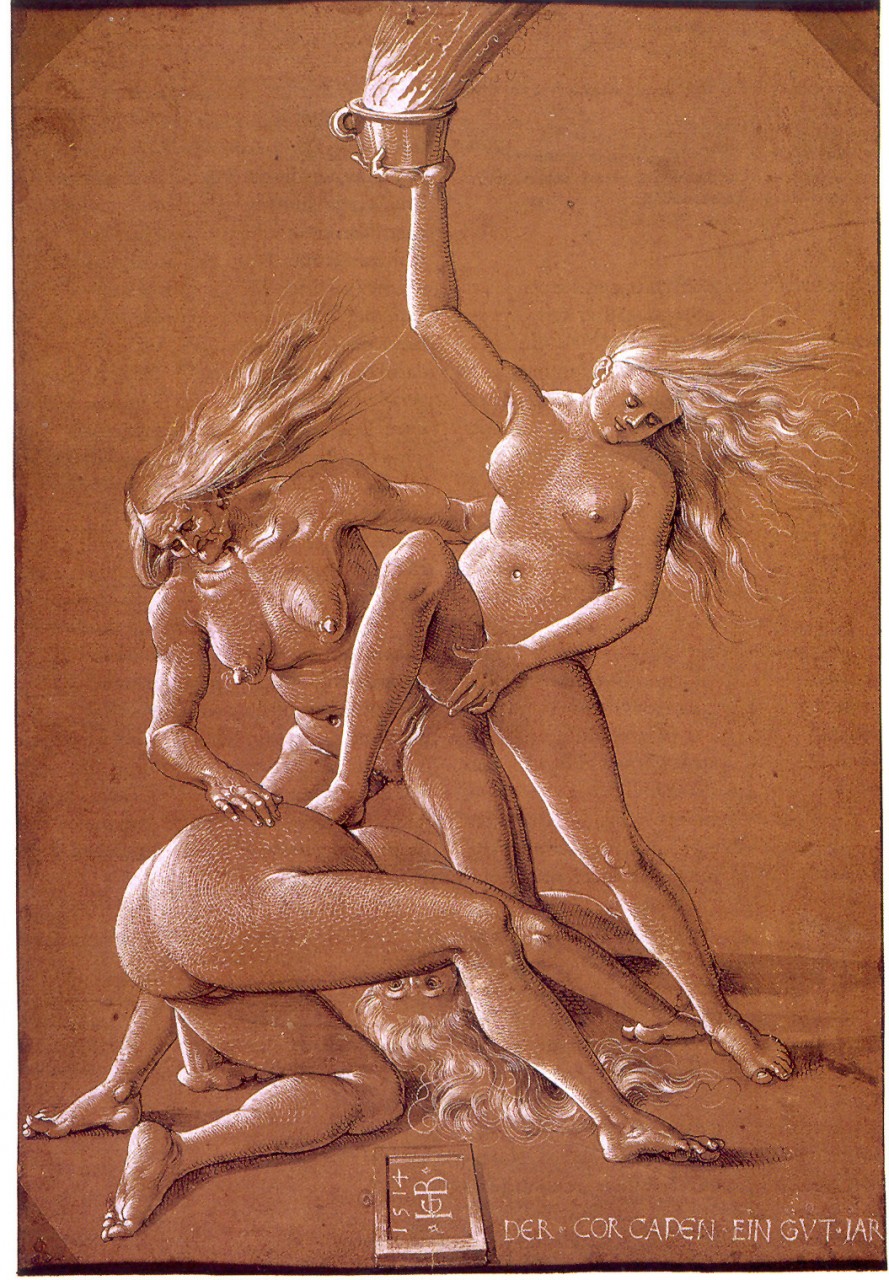 New Year's Wish with Three Witches
Hans Baldung 1514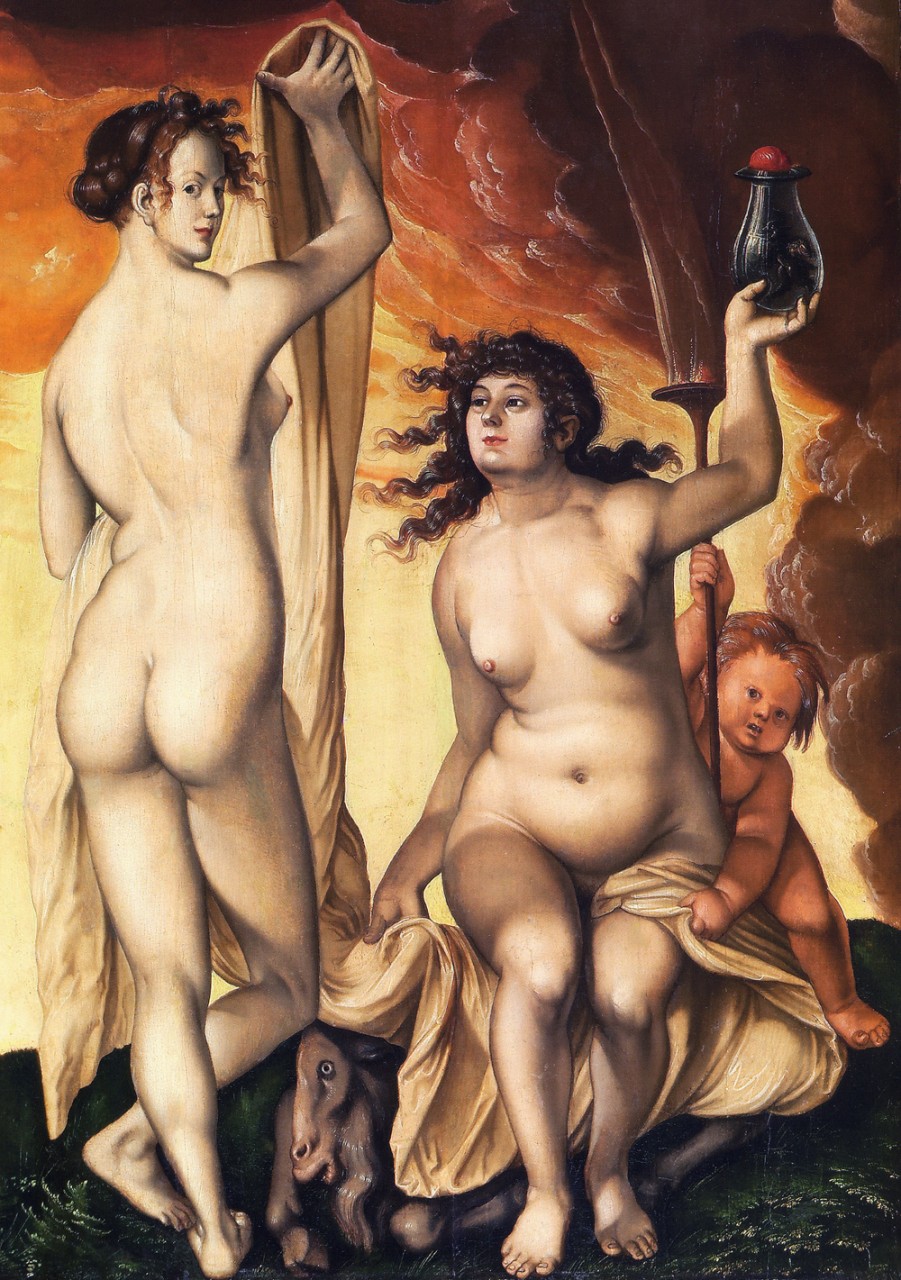 Ведьмы погоды.
Hans Baldung Grien, The Weather Witches (1523), oil on panel, Städel Museum, Frankfurt.
Français : Deux sorcières
Date 1523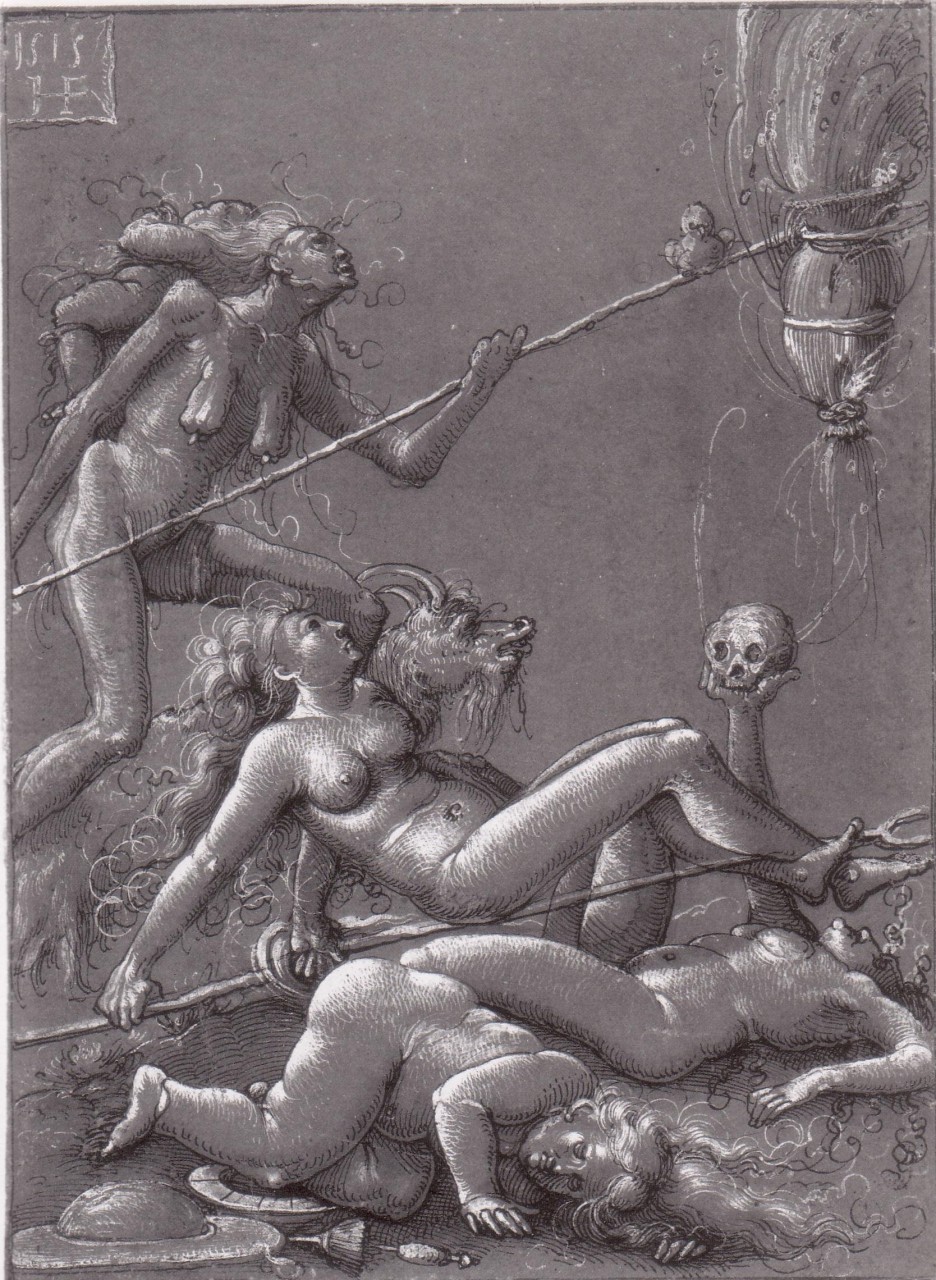 Hans Franck/Meister HF (um 1485 Bubendorf bei Basel - 1522 Basel): Witches -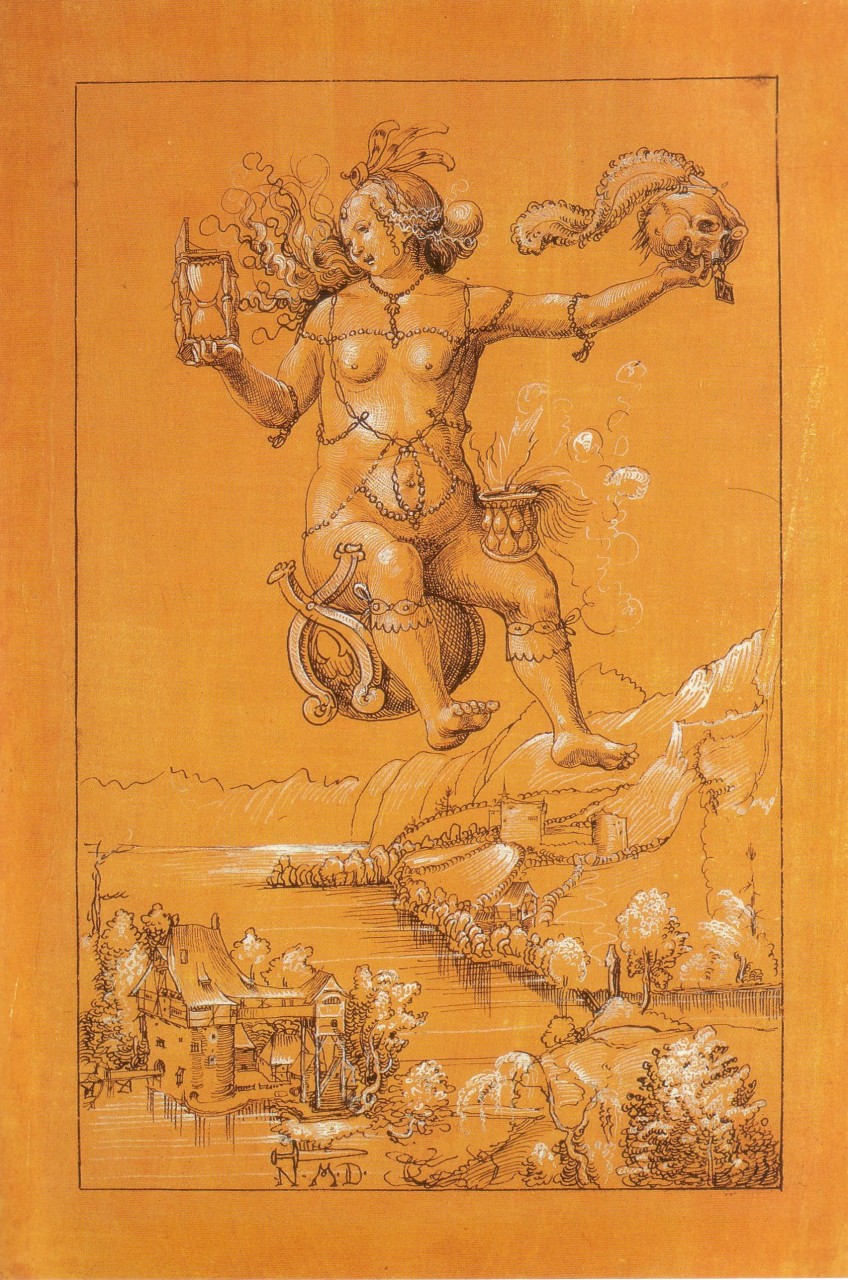 Niklaus Manuel genannt Deutsch (um 1484-1530)
Title Hexe, den Schädel des Malers durch die Lüfte tragend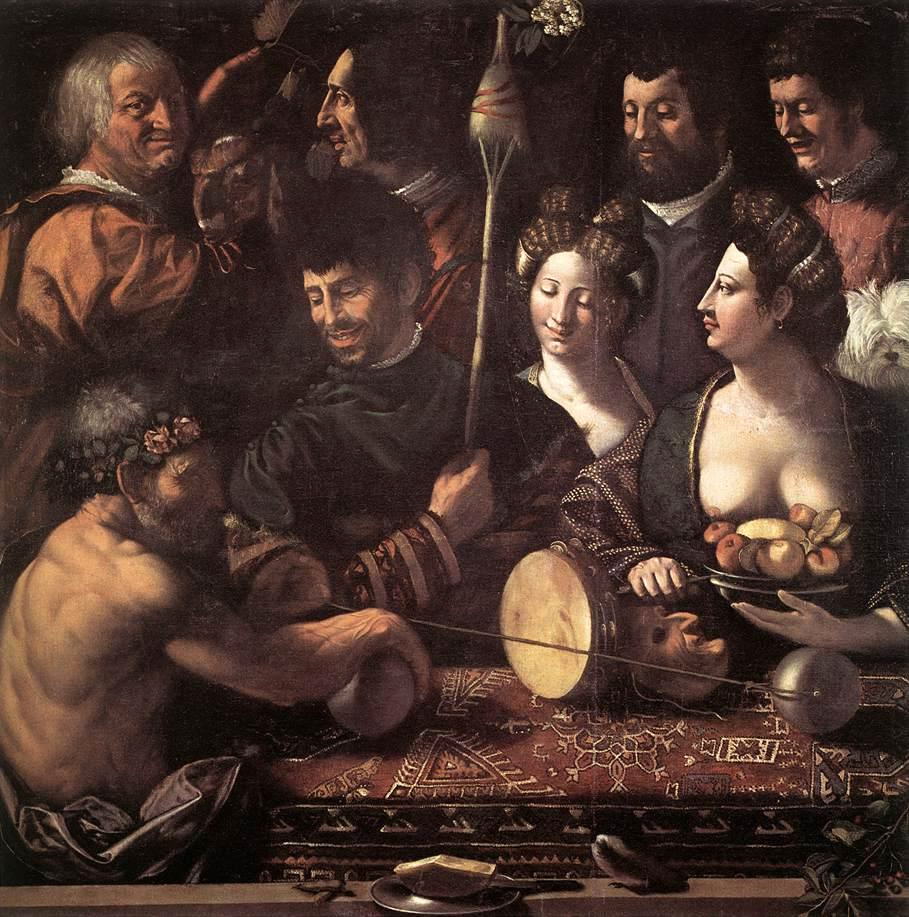 Dosso Dossi (1490–1542) Witchcraft (Allegory of Hercules)
Date c. 1535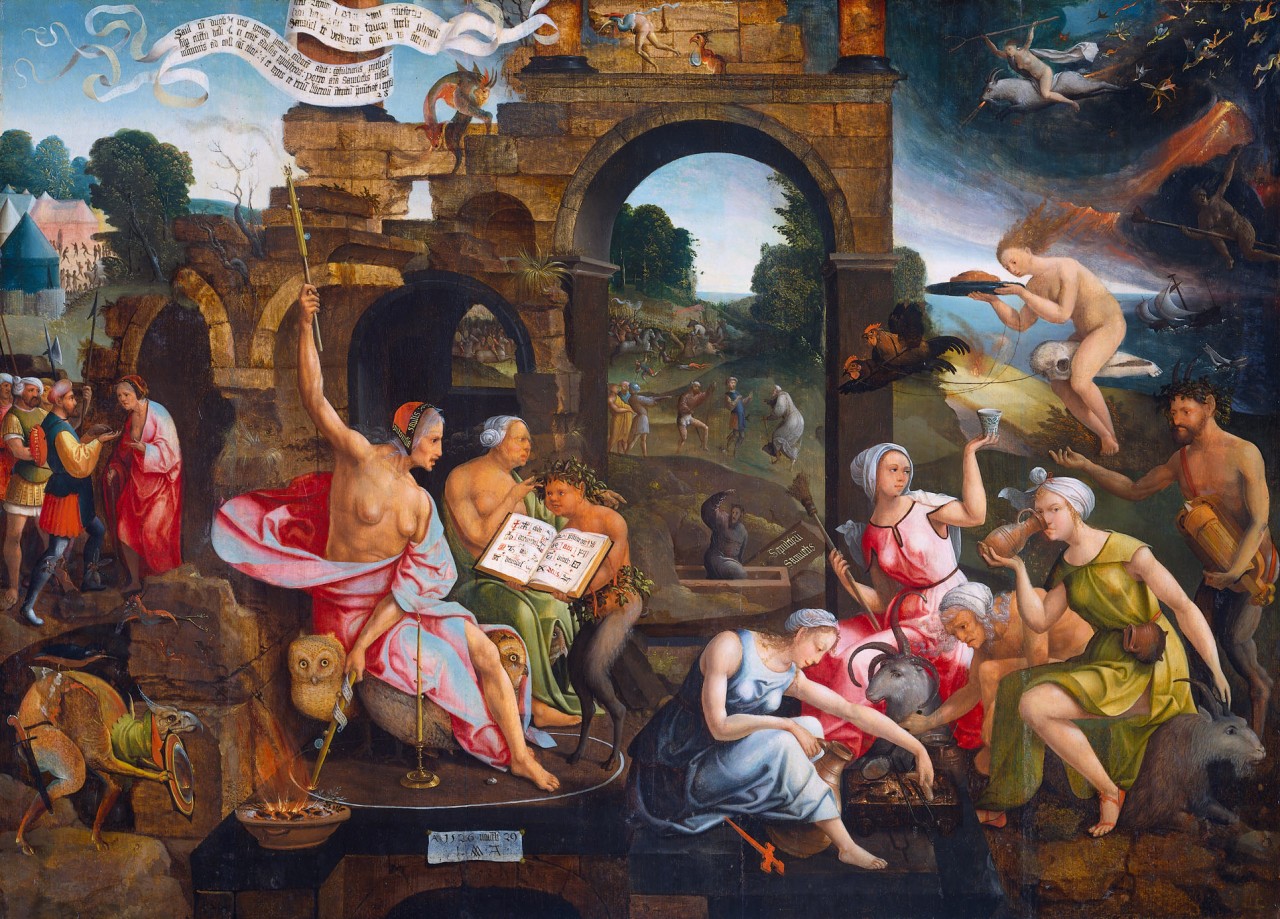 Jacob Cornelisz. van Oostsanen (circa 1472/1477-1533) Saul and the witch of Endor.
Date 1526
Сол, оставленный Богом, отчаявшийся получить от него ответ - ищет знание будущего у ведьм. Свитки в воздухе цитируют места из Библии. В центре - ведьма, в очерченном вокруг неё магическом круге совершает ритуал. 
Шабаш ведьм: полёты на мётлах и черепе, который буксируют чёрные петухи, фавн и демоны.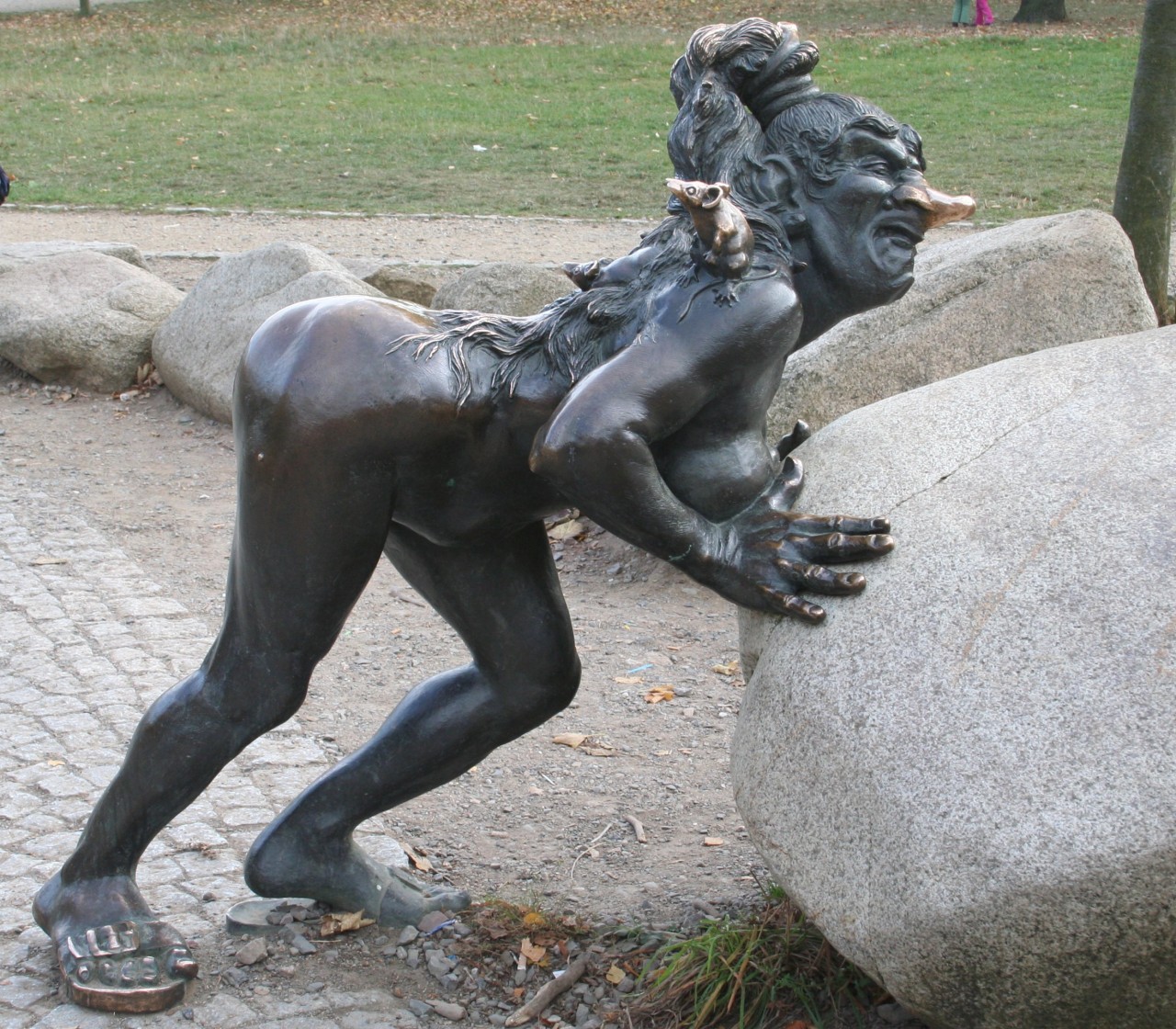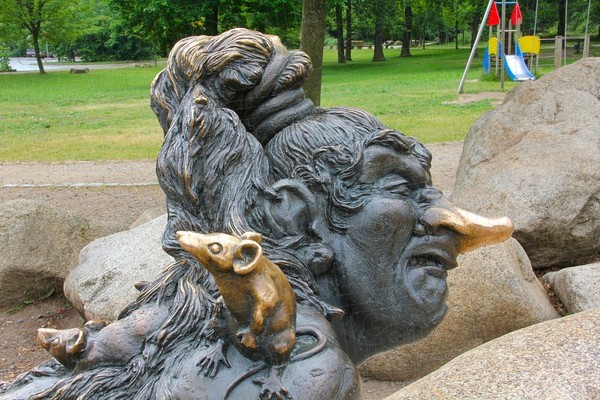 Памятник ведьме, Гарц, Германия

НАЧАЛО:
================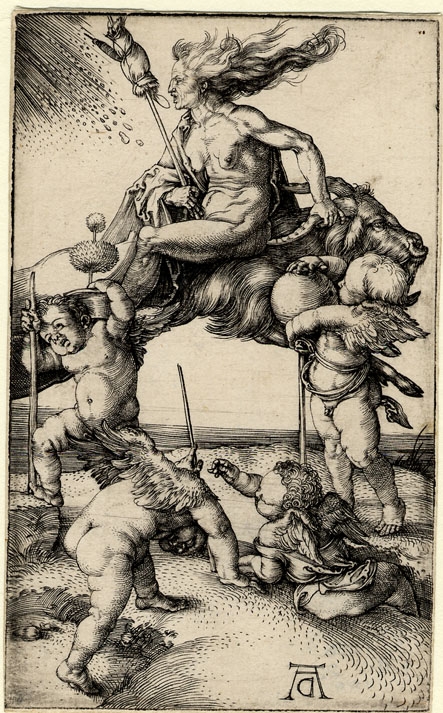 Print made by Albrecht Dürer 1500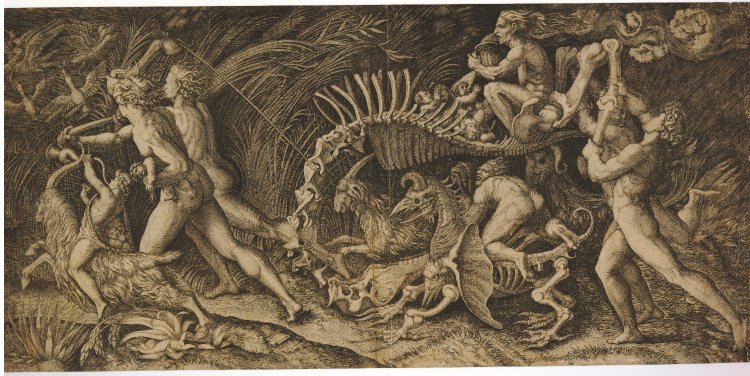 Agostino Veneziano After Raphael 1510-1536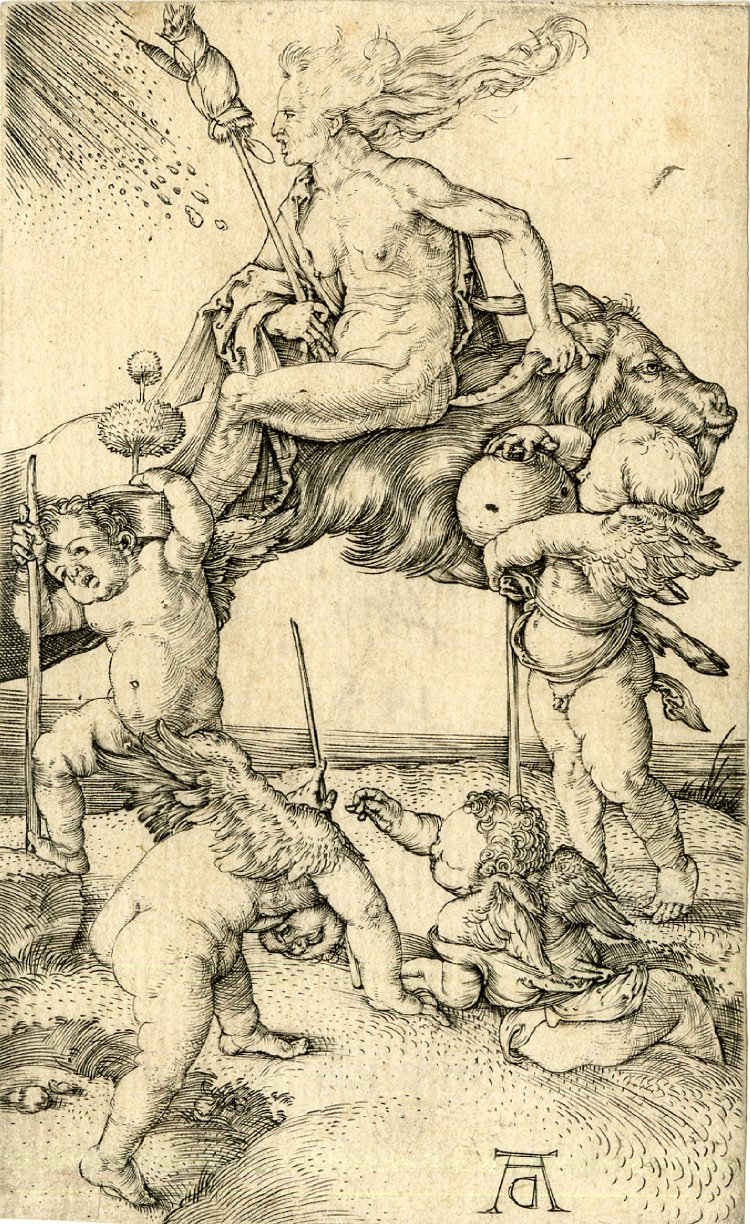 A witch riding backwards on a goat, with four putti, two carrying an alchemist's pot, a thorn apple plant. c.1500
Print made by Albrecht Dürer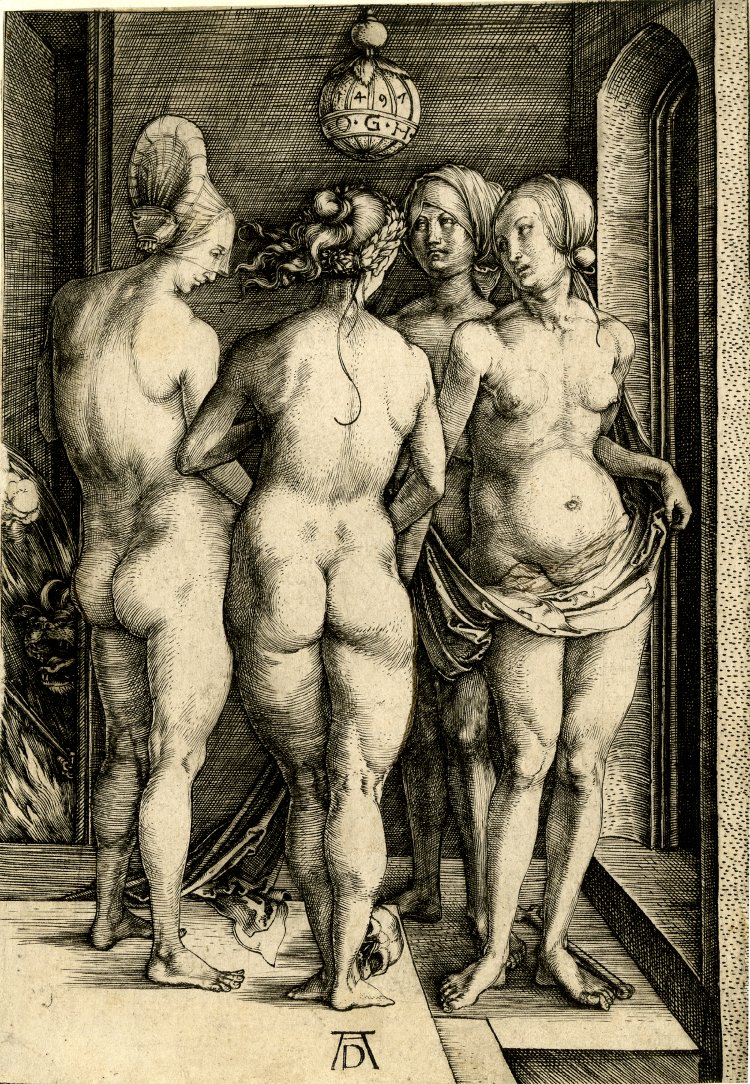 The Four Witches; a group of four nude women standing underneath a sphere inscribed with the letters "O.G.H". 1497
Print made by Albrecht Dürer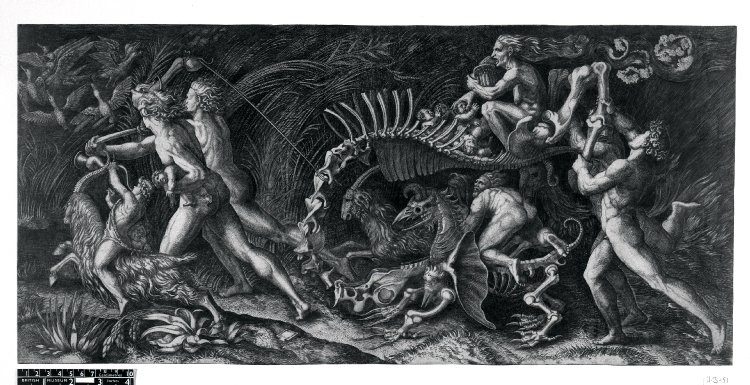 Print made by Agostino Veneziano 
Date
1515-1525
Two naked men drag the carcass of a monstrous creature, a witch rides above and two other naked men bring up the rear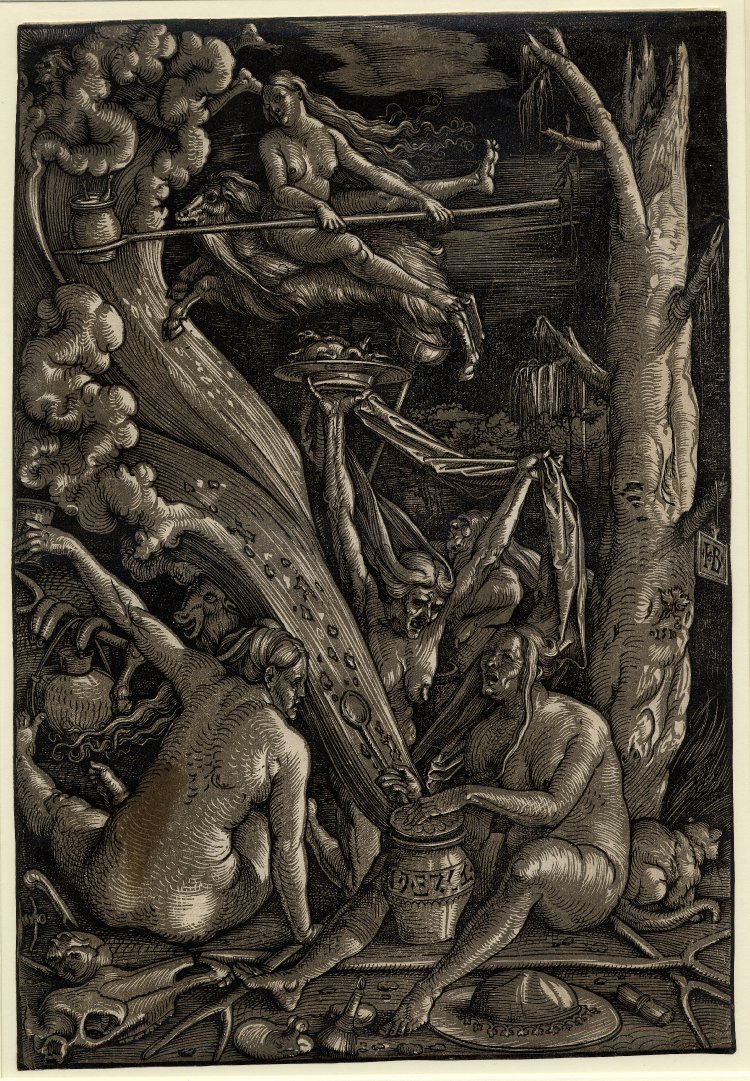 Print made by Hans Baldung 
Date
1510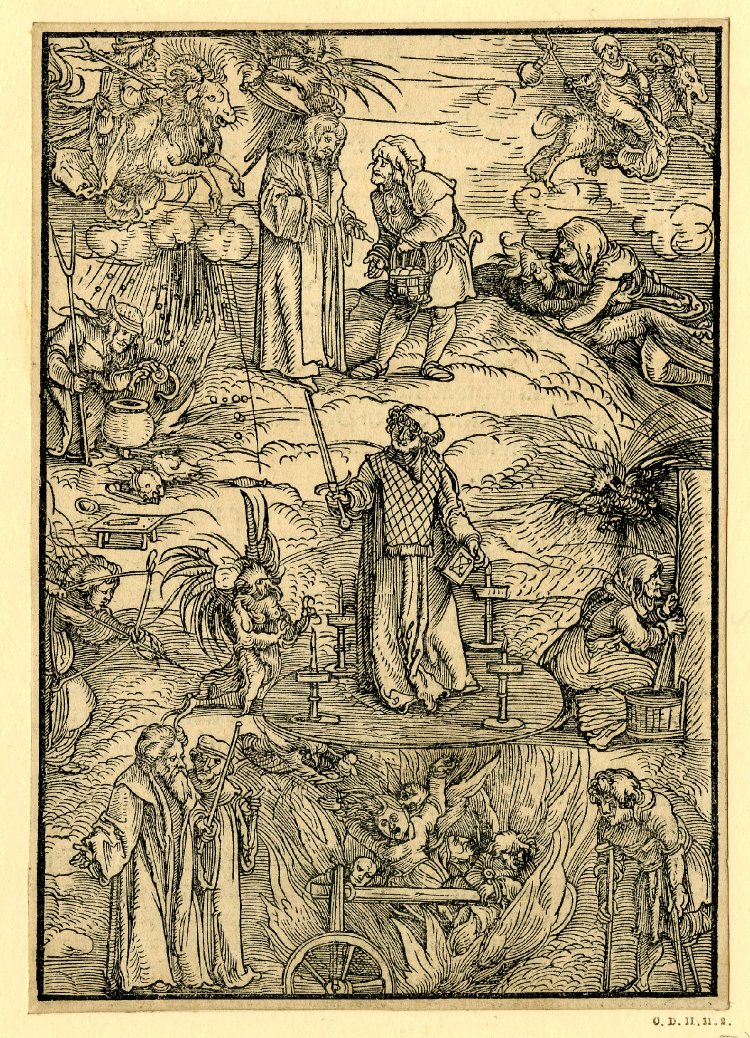 Sorcery and witchcraft; witches and warlocks engaging in various rituals, including flying on rams, preparing potions; at lower centre witches being burnt. Illustration to Tengler, 'Der neü Layenspiegel...', Augsburg: Johann Otmar (for Johann Rynmann), 1511.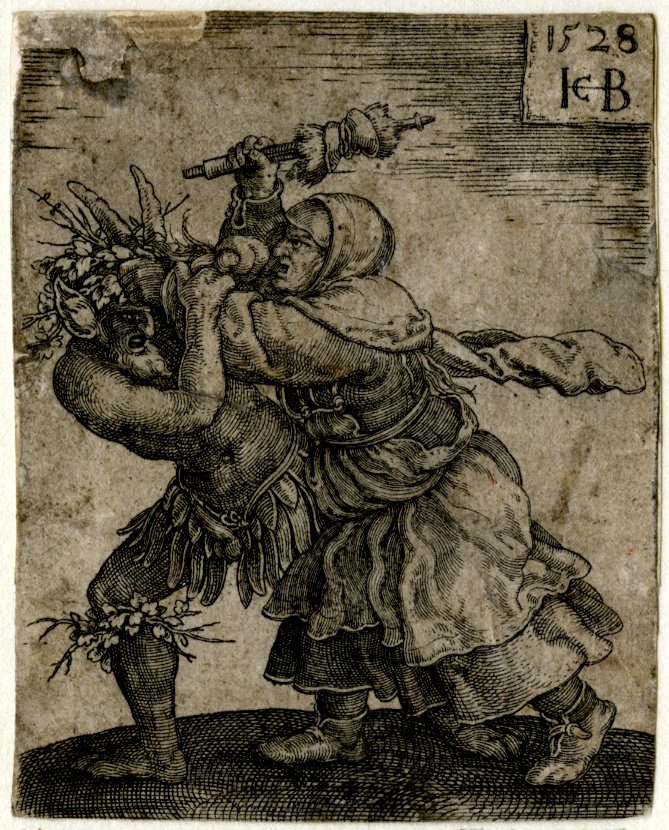 The witch attacking the devil; the devil horned and with leaves and twigs on his heads and knees; chased to left by the female figure holding a spindle (?); top right corner made up.
Engraving Print made by Jacob Binck 
Date
1528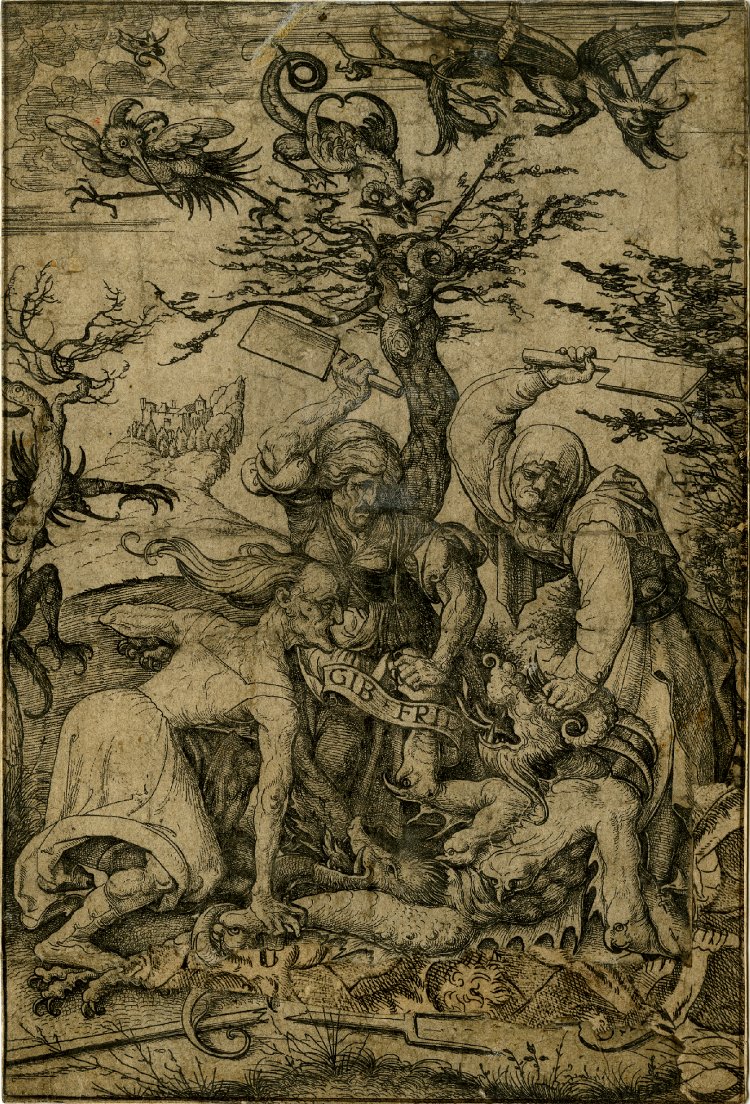 Print made by Daniel Hopfer 
Date
1505-1536
Three haggard-looking old women, possibly witches, beating the devil to the ground, devilish creatures in the sky, landscape background; another impression; large section at lower right made up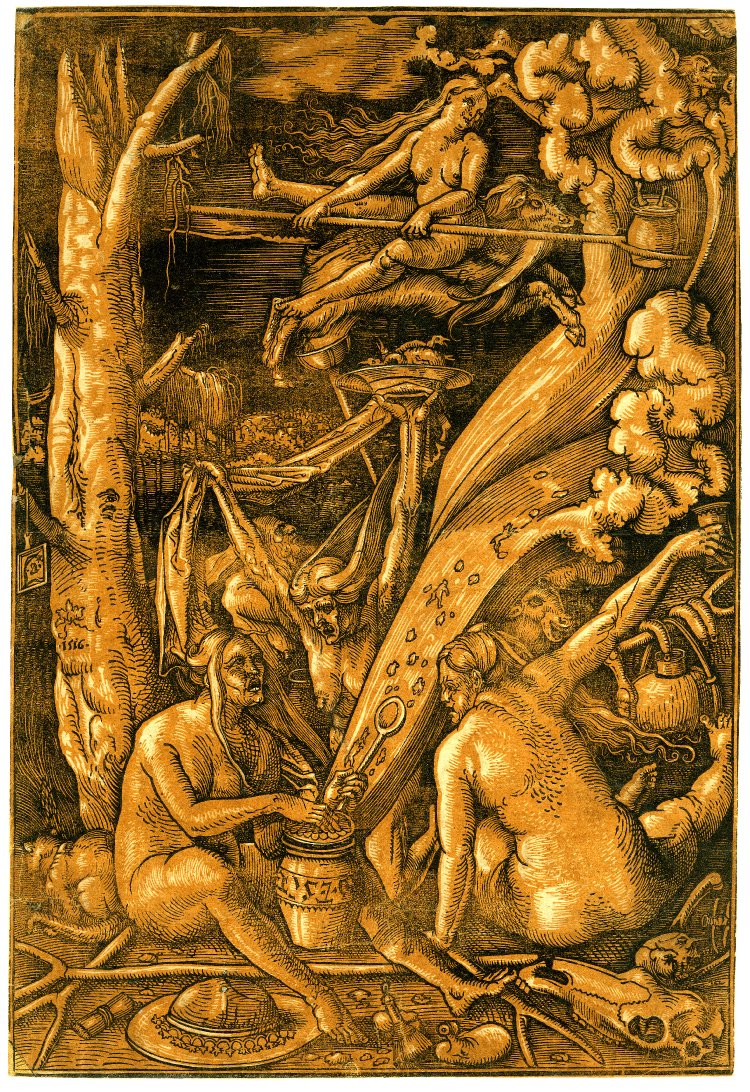 Witches' Sabbath, after Baldung Grien; three naked women in the foreground before an inscribed urn; several staffs, bones and other objects on the ground, a cat on the left above a witch riding backwards on a goat and holding a fork; signed: 'LA' on a tablet hanging from the block at the far left and dated on the trunk of the tree. 1516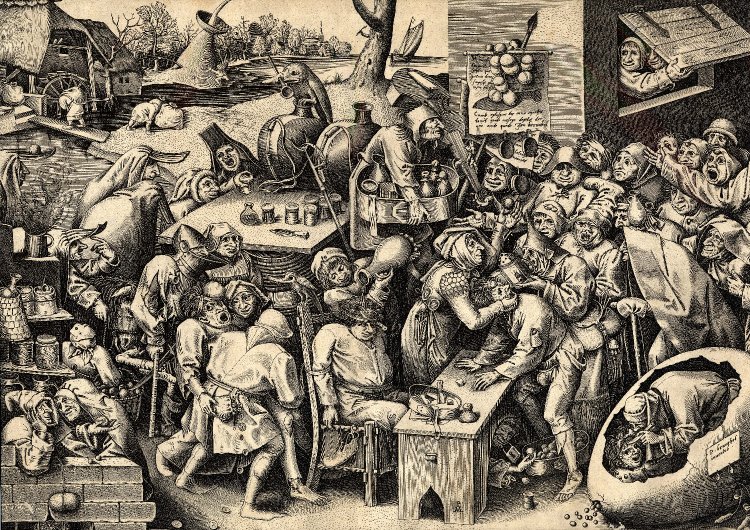 After Pieter Bruegel the Elder
The Witch of Malleghem. The witch and her assistants prepare to cut stones of foolishness out of the heads of three victims in the foreground; around them gathers a crowd to witness the surgery. 1559
Engraving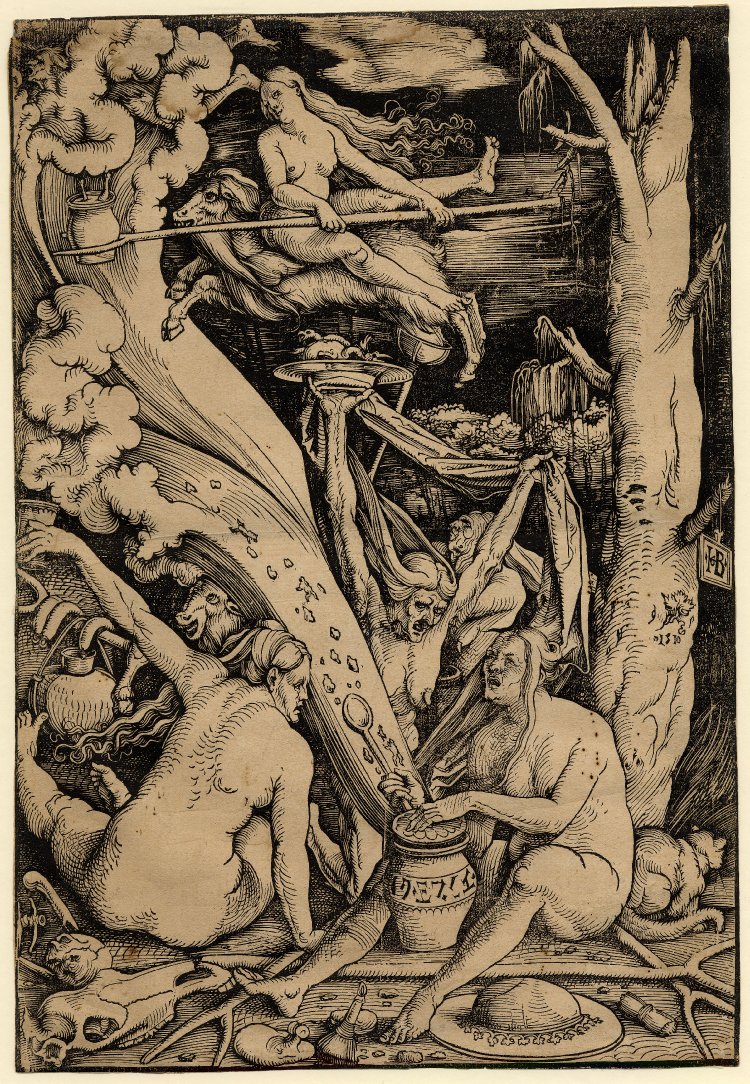 Print made by Hans Baldung 
Date
1510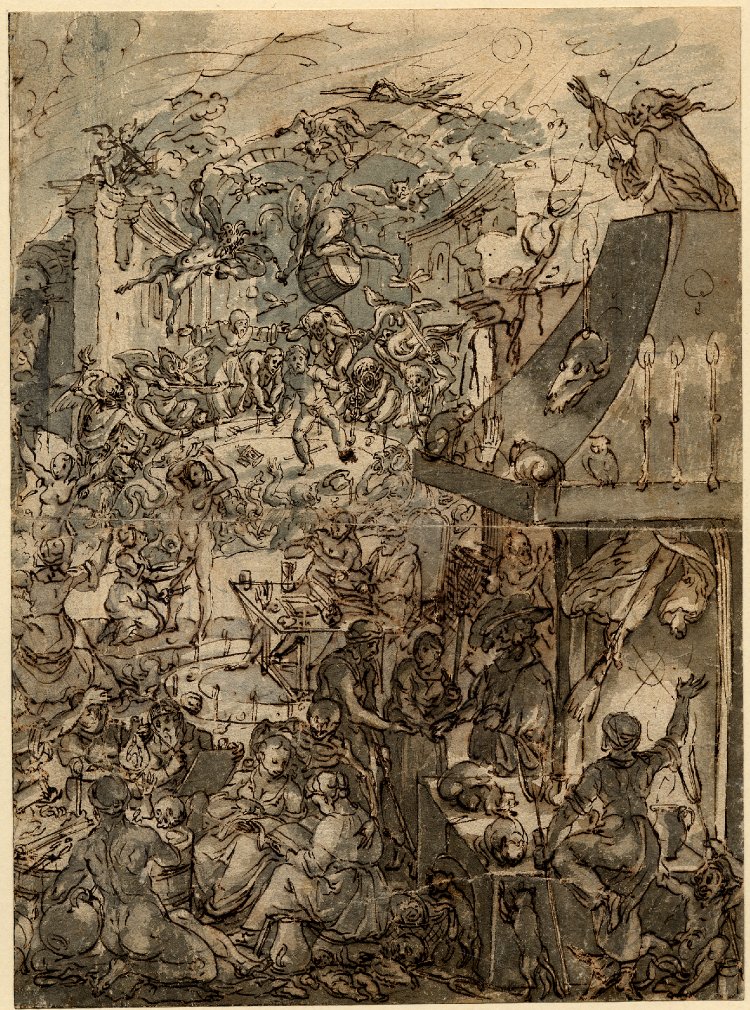 Drawn by Frans Francken II 
Date
1581-1642
A Witches Sabbath; a fireplace and chimney at right with a witch on a broomstick emerging from it, a woman climbing onto a table in front with cats around her, a group of men and women seated on the ground, with devilish figures and a man dancing in a magic circle behind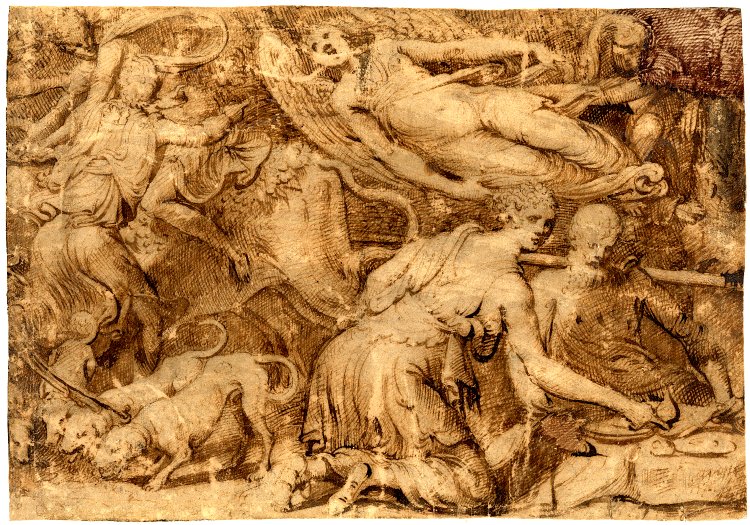 Drawn by Master of the V+A Diableries 
Date
16thC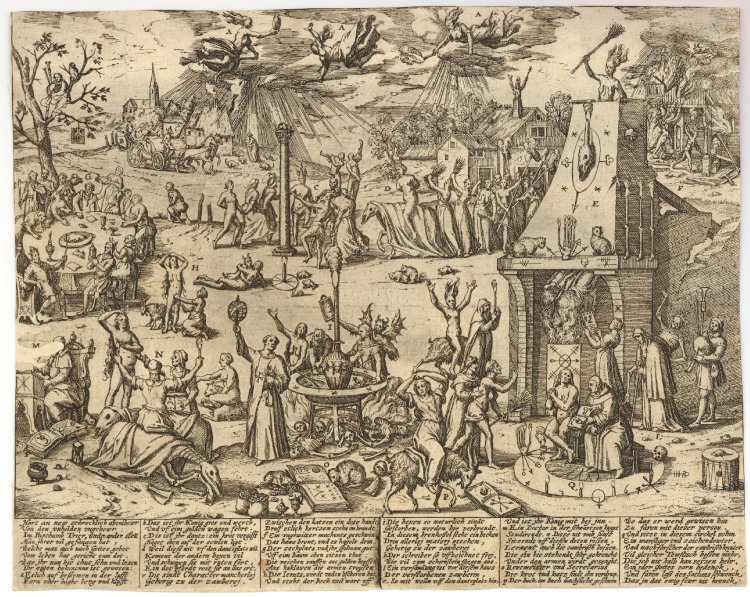 A broadside on witchcraft in the Bishopric of Trier and elsewhere; with an etching depicting various scenes of witchcraft; and with engraved text in six columns. (n.p.: ca.1600)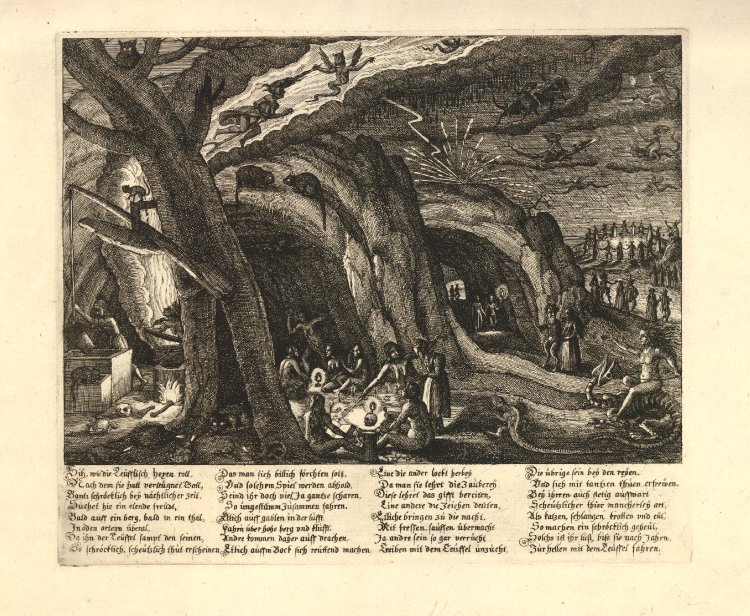 A broadside on witchcraft; with an etching showing a nocturnal scene of a Witches' Sabbath, with a cave and witches sitting and dancing in circles, in the circles' centres a skull on which a candle is burning, with devils guiding the newcomers, and in the sky witches riding on sticks or demons; with engraved text in four columns. (n.p.: ca.1630)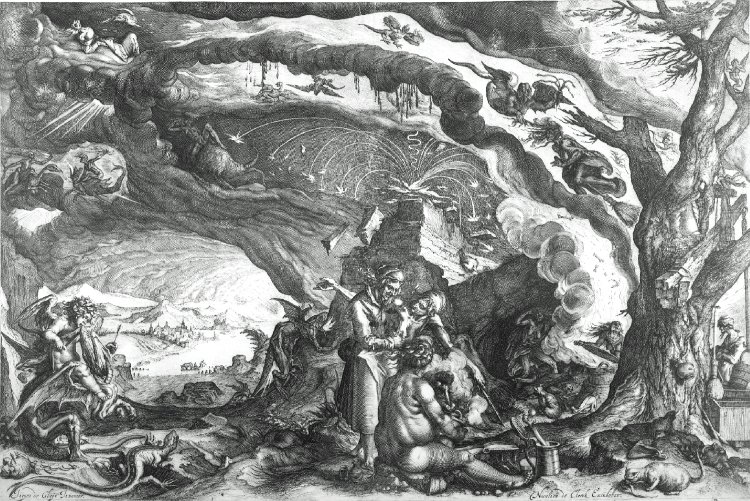 Attributed to Andries Jacobsz. 
Date
1610 (circa)
Preparations for a witches sabbath; Cupid seated on a winged lizard, at left, approaching a gathering of witches, either haggard or very fat, in the act of practicing their magic art; in the sky a devilish creature pulls the hair of a witch riding on a broomstick; a witch lifts the lid of a cauldron and smoke billows from it (two plates)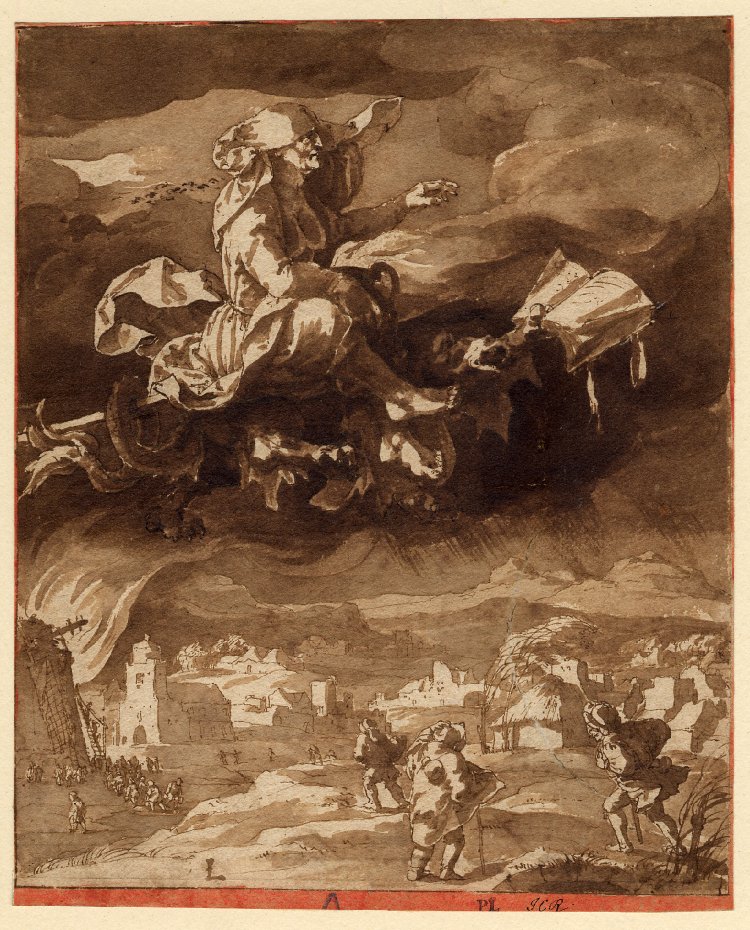 Drawn by Jan de Bisschop 
Formerly attributed to Lucas van Leyden
Date
1643-1671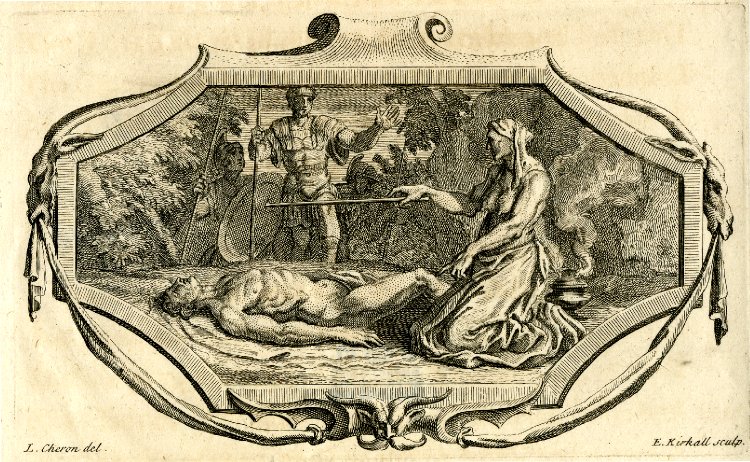 Pompey consulting the witch Erictho, he watching from a clearing between trees, a pair of soldiers with him, as the witch kneels on the ground in a clearing holding her staff over the body of a dead soldier which she conjures on the ground before her; illustration to Lucan's 'Pharsalia'; after Chéron. 1718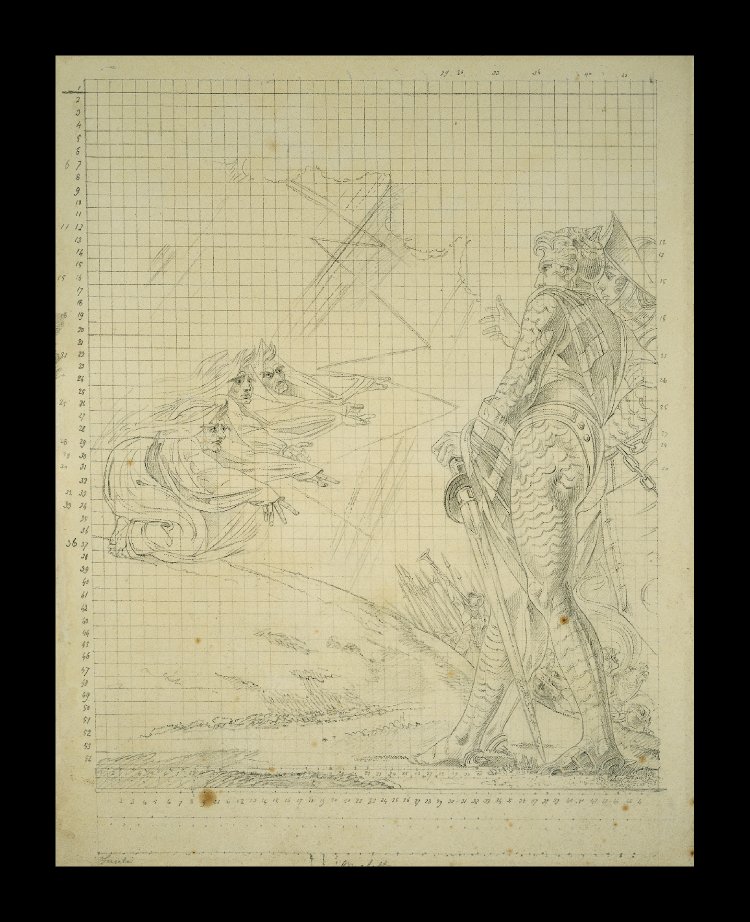 Macbeth, after H Fuseli; standing at r, the three witches at left
Graphite, squared for transfer (the margins numbered)

Drawn by William Sharp 
Date
1764-1824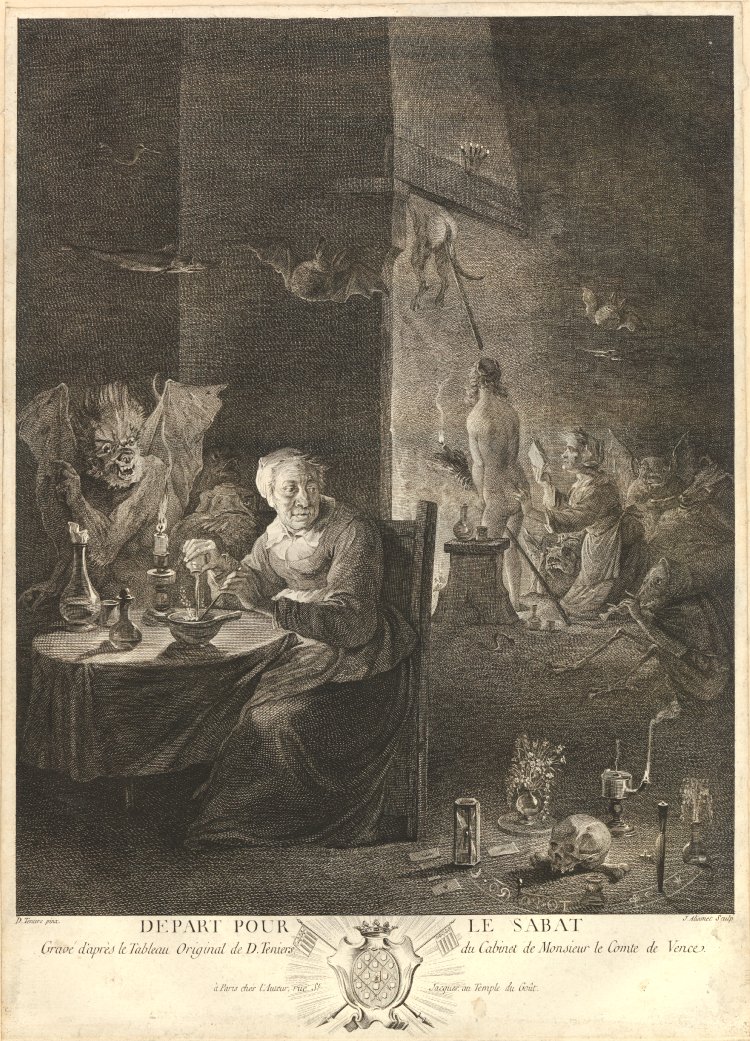 Ritual in an interior during the night; in the foreground on the left, a witch sitting at a table with demons and preparing a potion; in the background, a witch kneeling in front of a fireplace and pushing a naked woman towards the fire; after David Teniers the Younger. 1755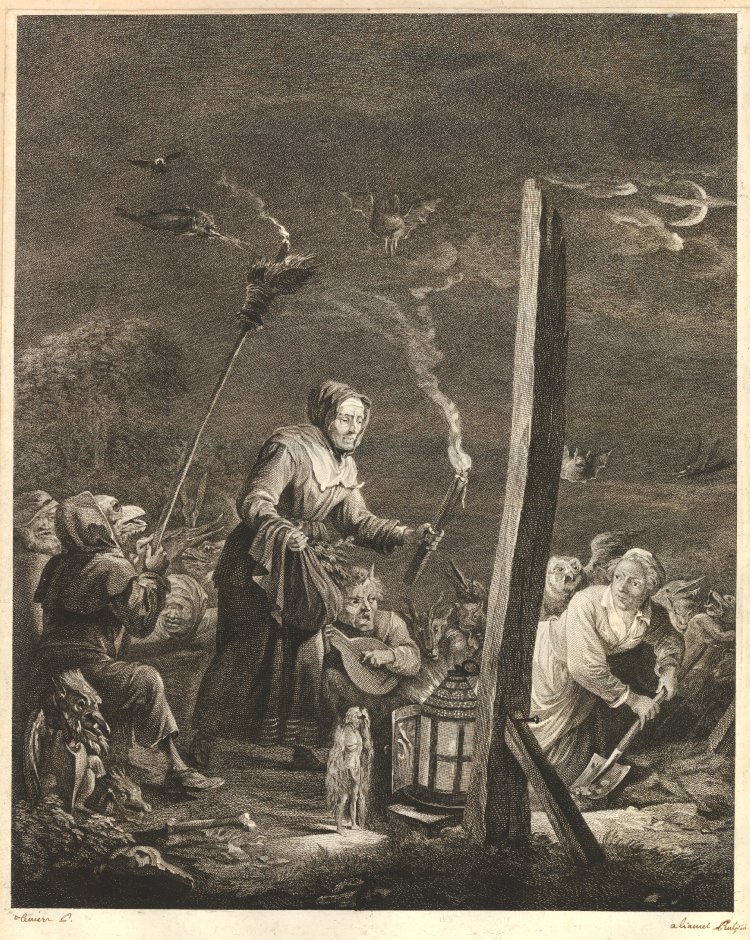 Nocturnal scene with witch standing among demons with firebrand in hand; proof before letters; after David Teniers the Younger. 1755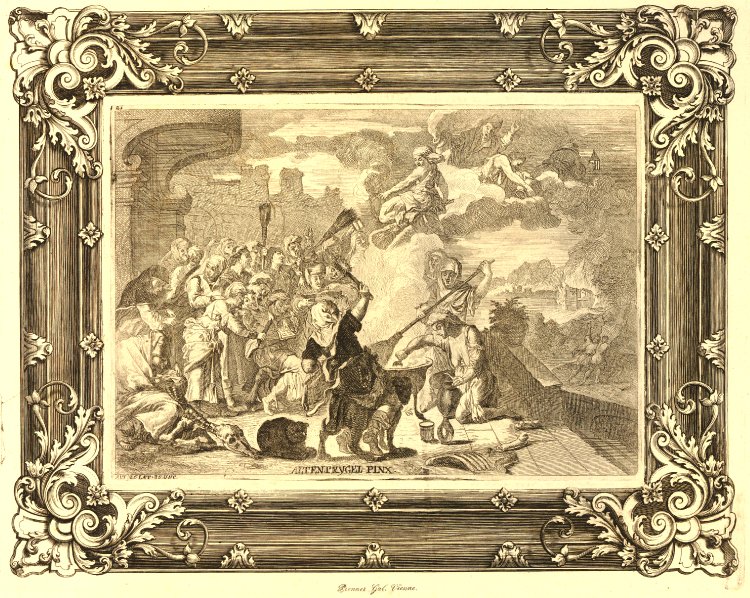 Theatrum Artis Pictoriae
Witches preparing a potion on top of stairs at left, one seated on an animal skeleton in lower left, others flying on brooms at top; within separately printed decorative frame; after Pieter Bruegel the Elder; from a series of reproductions of the Electoral Gallery of Paintings in Vienna. 1728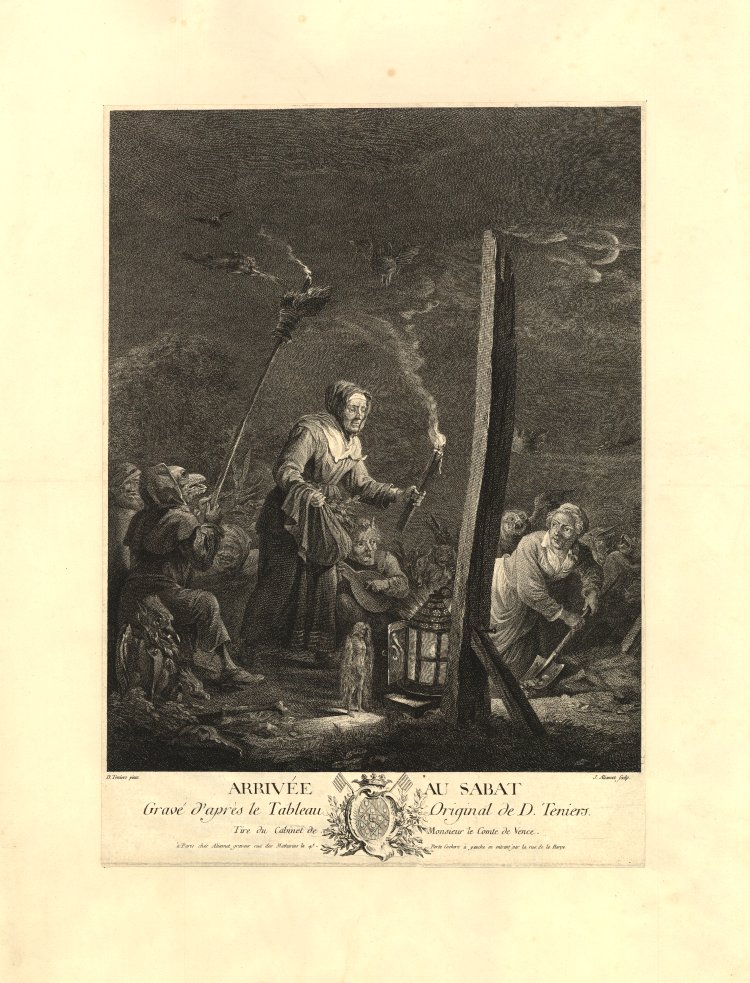 Nocturnal scene with witch standing among demons with firebrand in hand; Comte de Vence's coat of arms in bottom margin; after David Teniers the Younger. 1755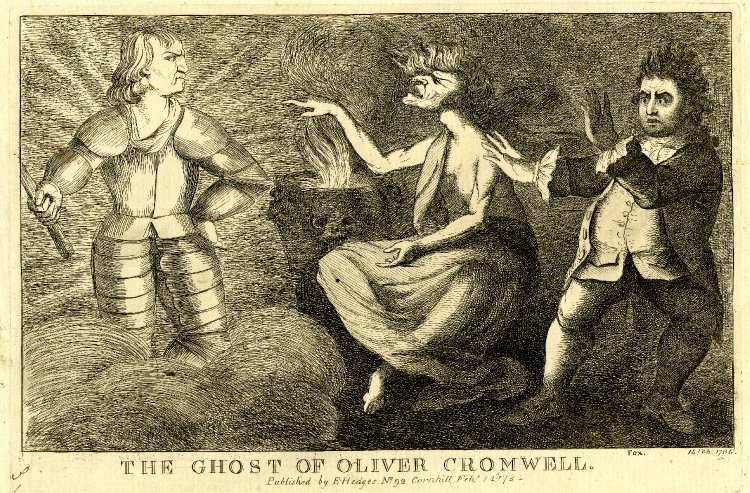 witch seated beside her cauldron evokes the ghost of Cromwell, who rises from clouds (left) wearing armour to look fiercely at Fox (left) who stands horror-struck, hands held out, the hair rising on his head. The witch, a thin hag naked to the waist, in profile to the left, points towards Cromwell, who has a fixed and angry scowl. Her cauldron is ornamented with a skull and grotesque masks. The background is shaded to indicate a dark cavern, a ghostly wind being suggested by the swirling draperies and hair of the witch. The light radiates from Cromwell and his armour, falling on the witch and Fox. 14 February 1784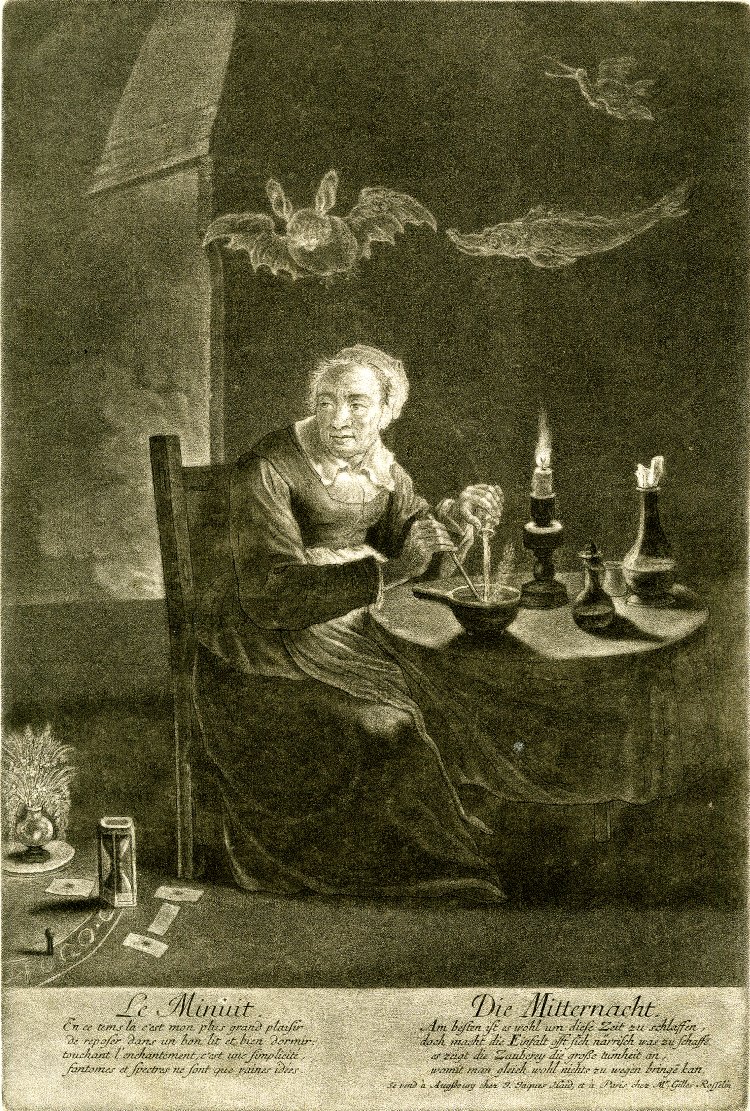 A female alchemist or witch seated at a table, mixing powders; ghost-like creatures hovering above; vase and hourglass to left. c.1770s
Print made by Johann Jakob Haid 


---------------------------Francisco de Goya ---------------------------



Francisco de Goya (1746-1828)
Witches in the Air
Oil on canvas, 1797-1798
17 1/8 x 12 3/8 inches (43.5 x 31.5 cm)
Museo del Prado, Madrid



Francisco de Goya (1746-1828)
Witches Sabbath
Oil on canvas, 1798
Museo Lazaro, Madrid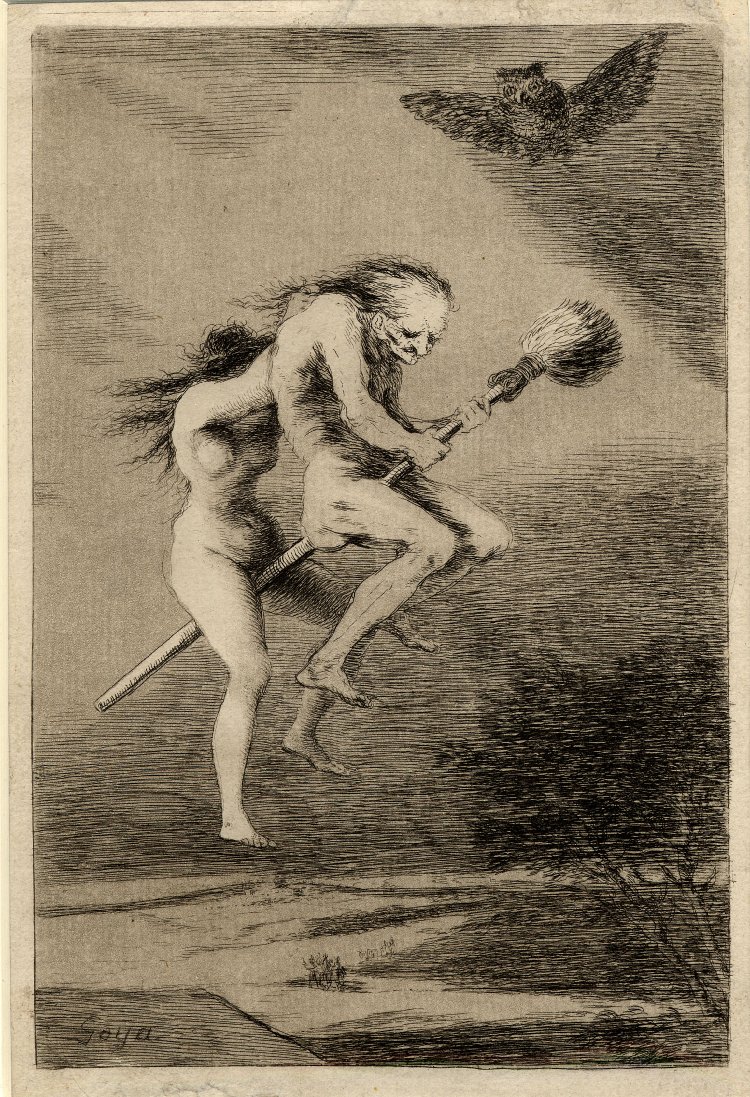 Los Caprichos; Linda maestra!print; Francisco Goya (Print made by); Plate 68: two witches riding on broomstick over landscape, owl in air; working proof. 1799 Etching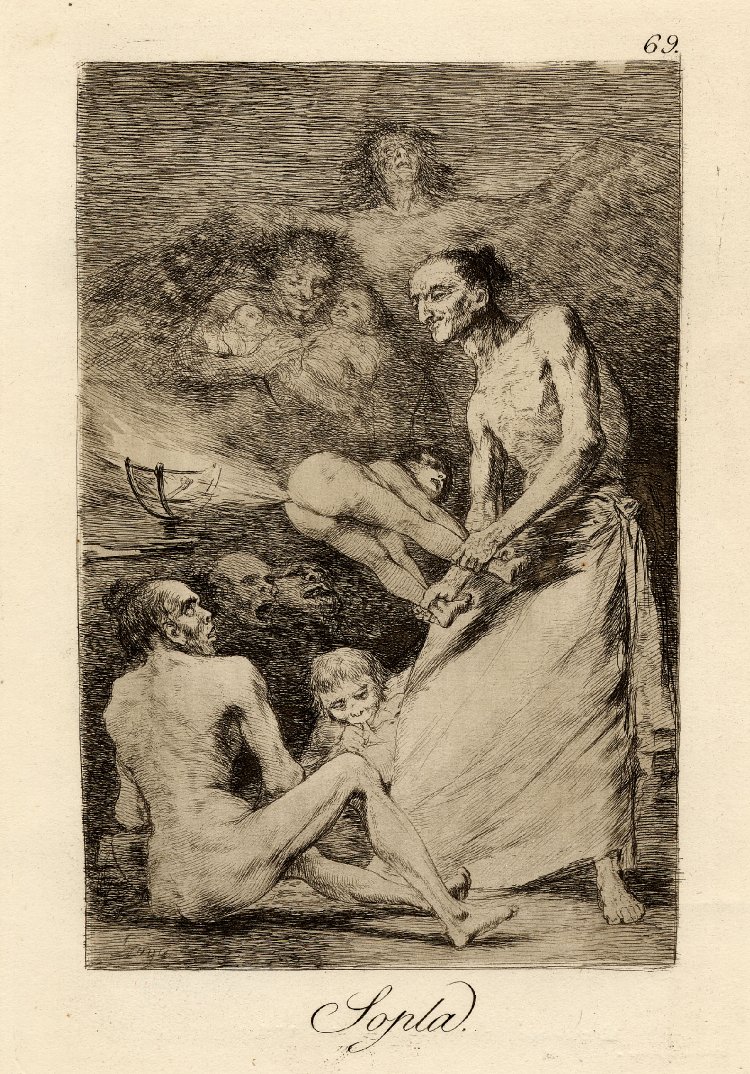 Los Caprichos; Soplaprint; Francisco Goya (Print made by); Plate 69: group of witches, some eating children, one standing holding a small figure who is breaking wind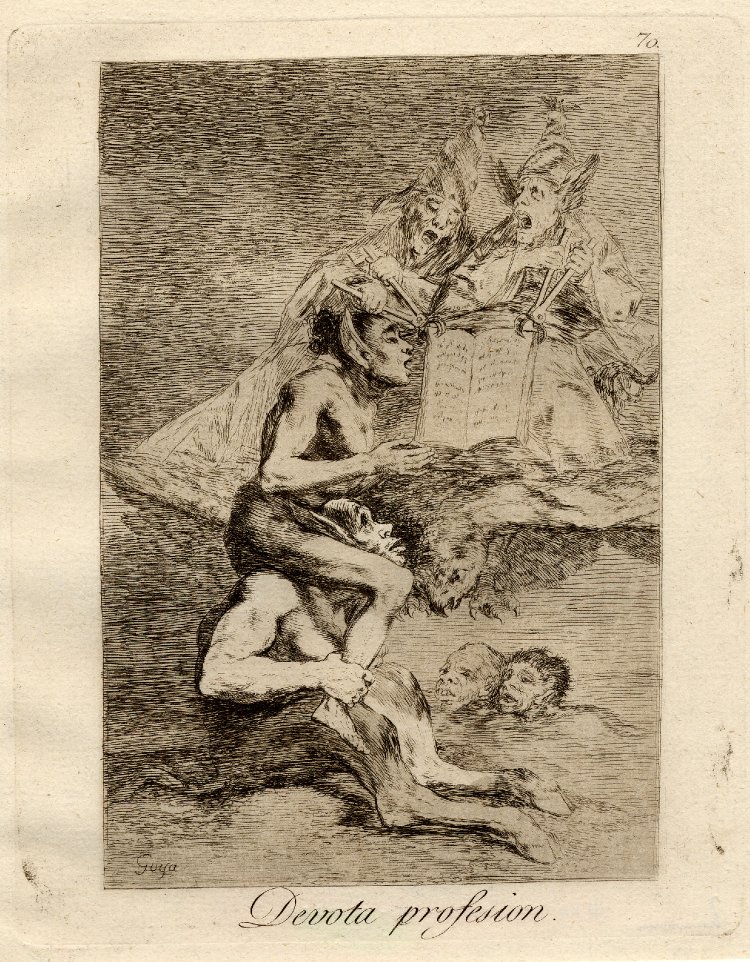 Print made by Francisco Goya 
Date
1799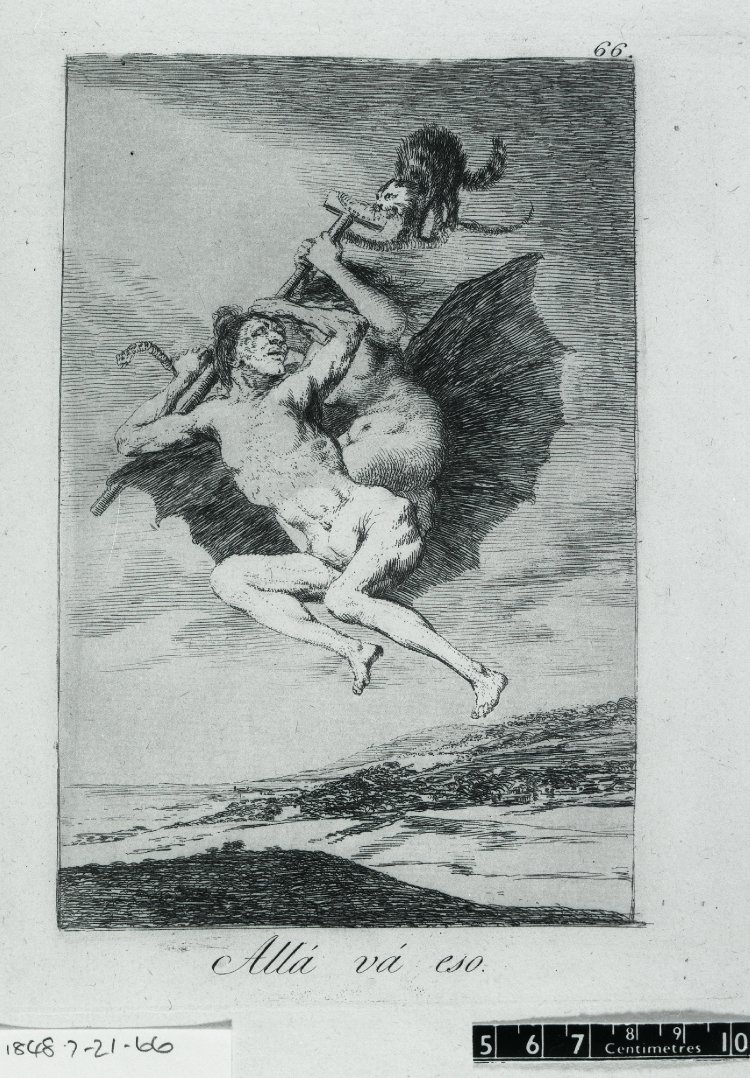 Los Caprichos / Allá vá eso (There it goes)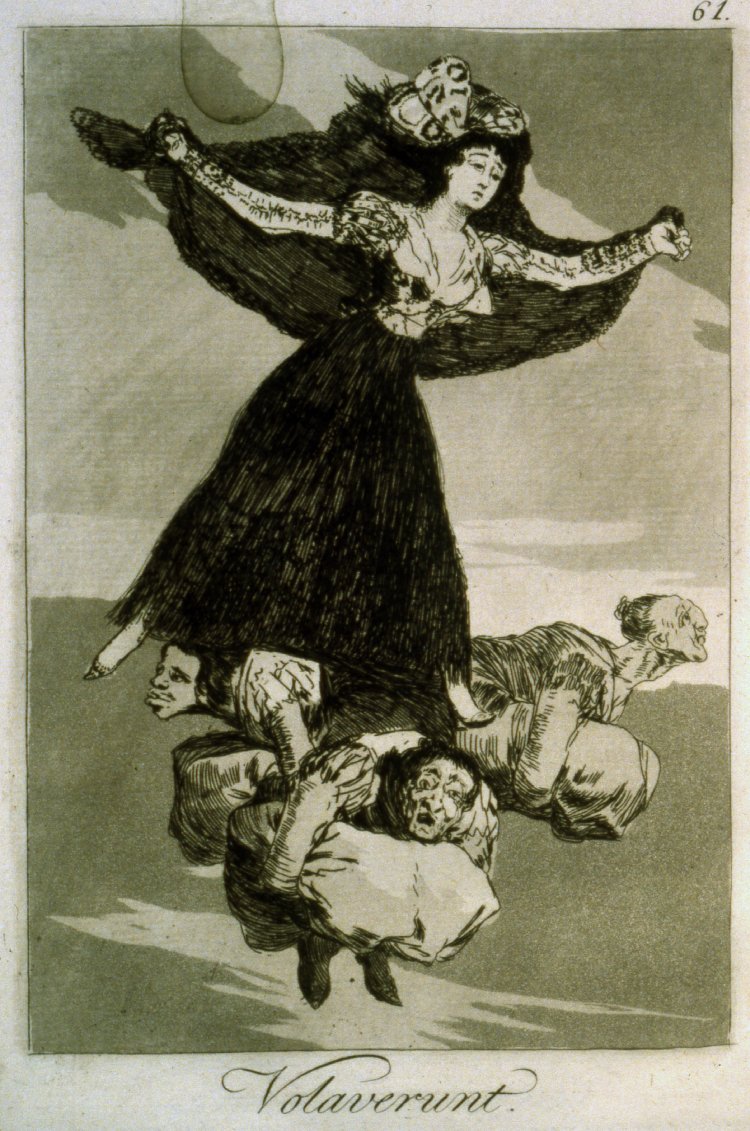 Los Caprichos / Volaverunt (They have flown)
----------------------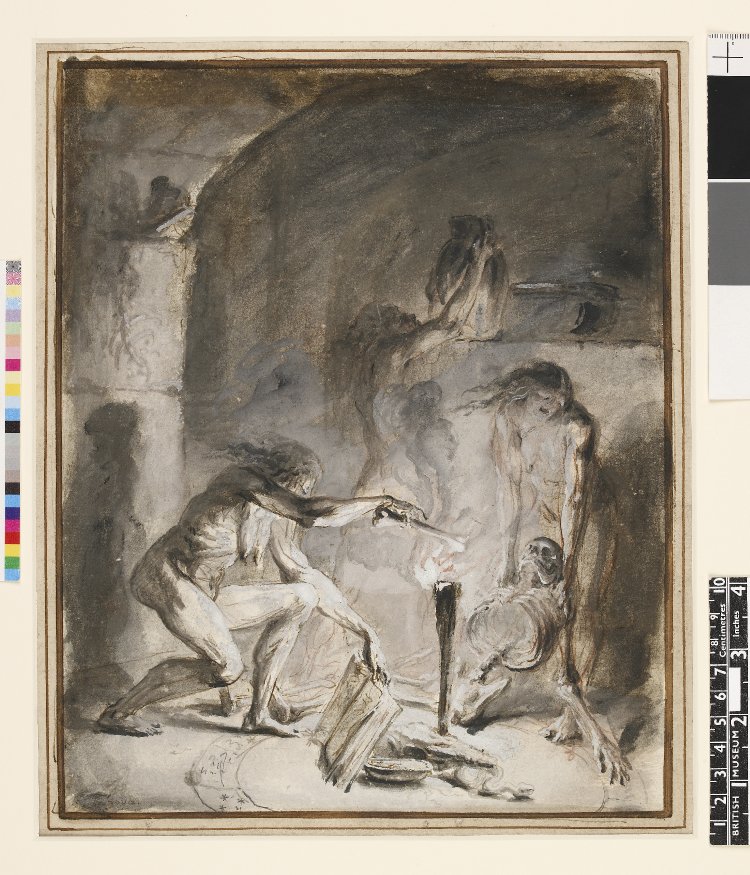 Attributed to Luis Paret y Alcázar 
Date
1746-1799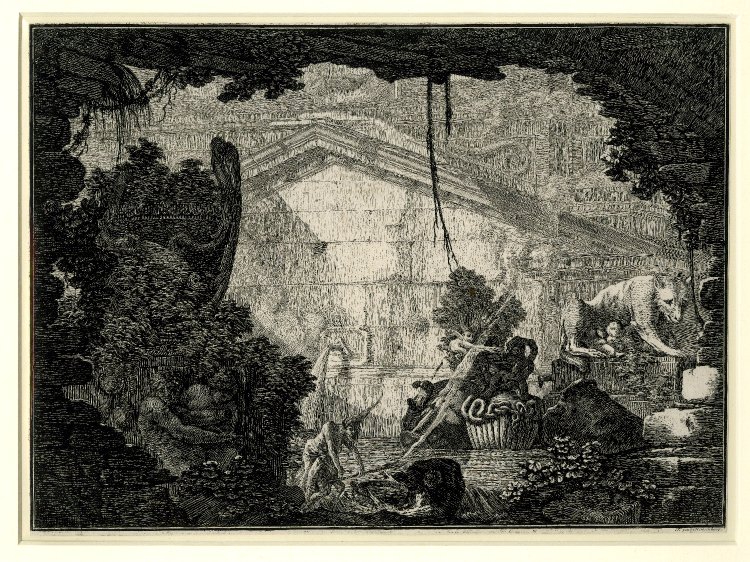 Print made by Johann Ferdinand Hetzendorf von Hohenberg 
Date
1750-1800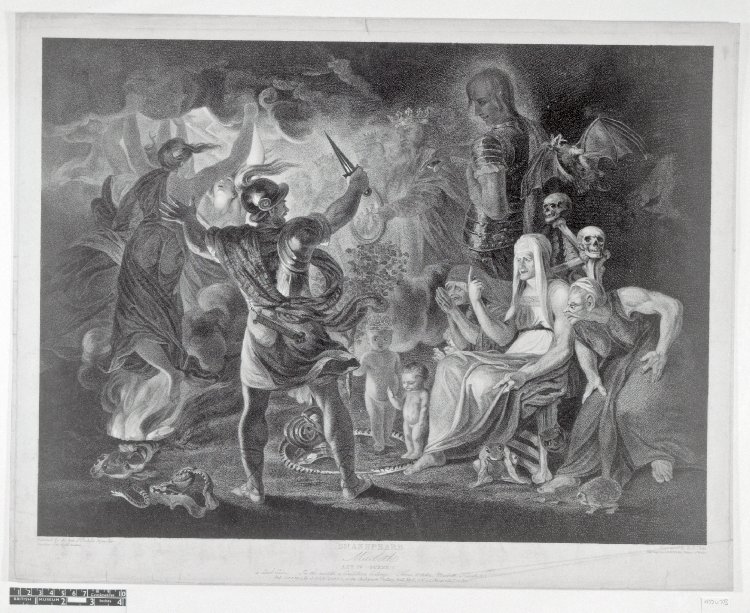 Macbeth in the foreground to left, seen from the back, faces the witches and the apparitions; by his feet, inside a coiled snake, stand a small bloody child and a child wearing a crown and holding a tree, behind them are the kings, one holding a mirror, and a large figure of a soldier, pointing; the witches sit on the far r, Hecate in the middle, with her forefinger pointing upwards; after Reynolds (Mannings 2103). 1802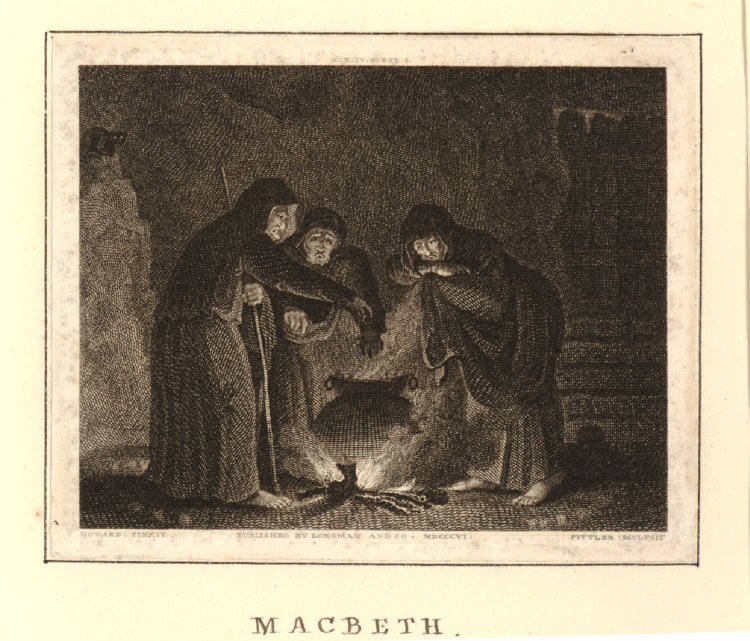 Print made by James Fittler 
After Henry Howard 
Date
1806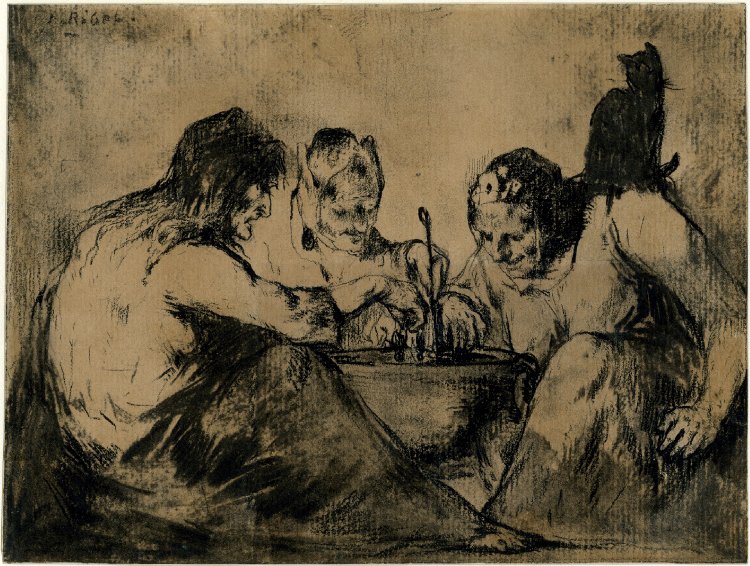 Drawn by Théodule Ribot 
Date
1823-1891
Three witches; seated around a cauldron, one on right with cat on shoulder
Black chalk with stump on cream paper, drawn on back of etching of head of a young girl, cut in half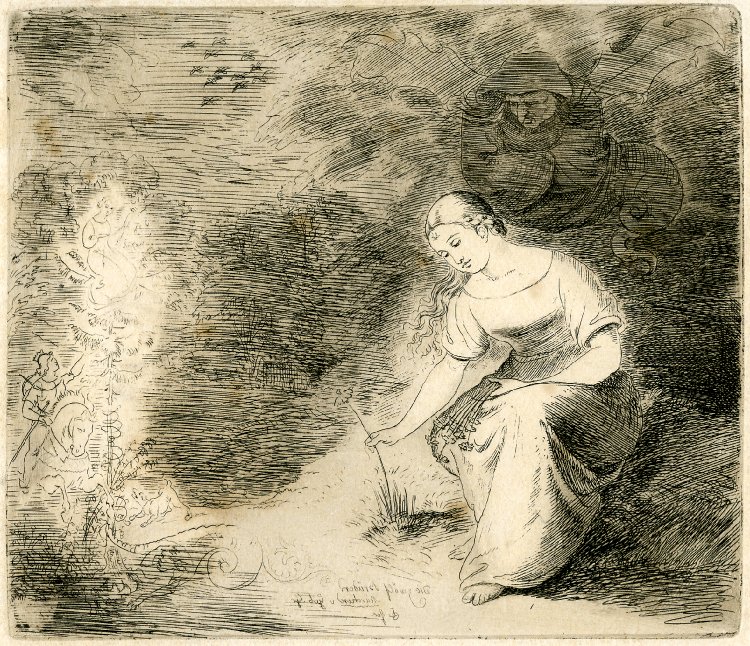 Print made by Ludwig Emil Grimm 
Date
1815-1825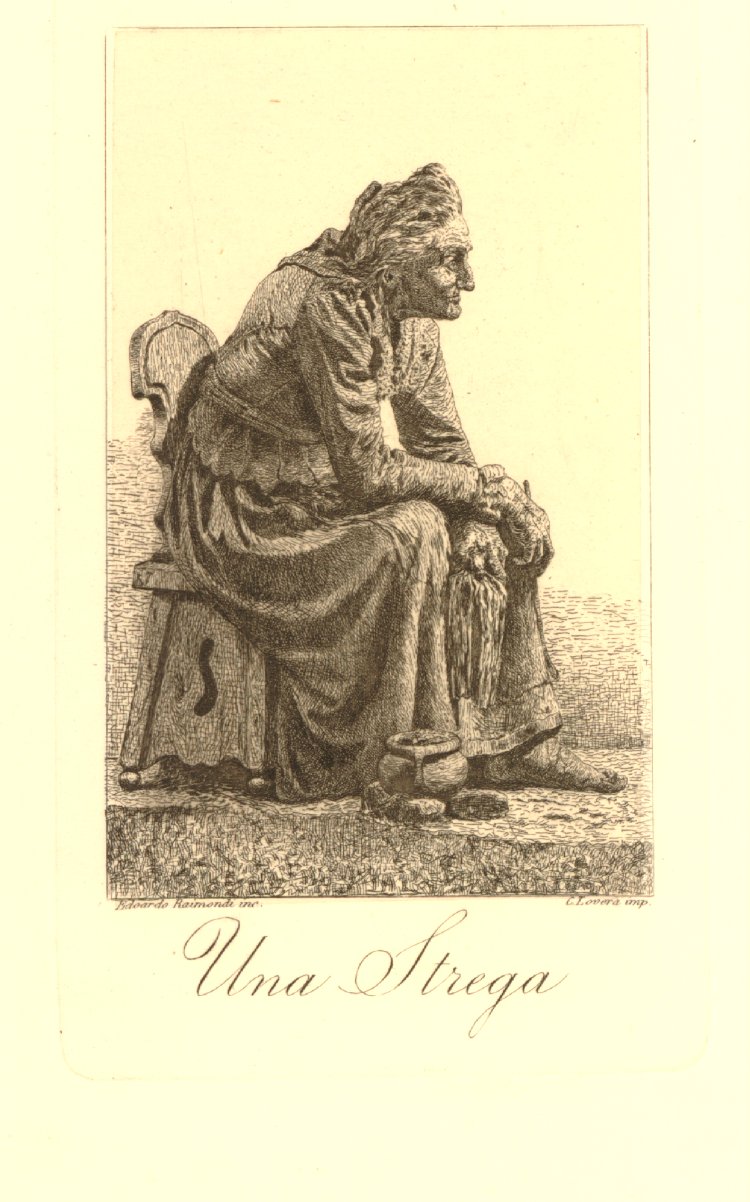 Published by Carlo Lovera 
Print made by Eduardo Raimondi 
Date
1869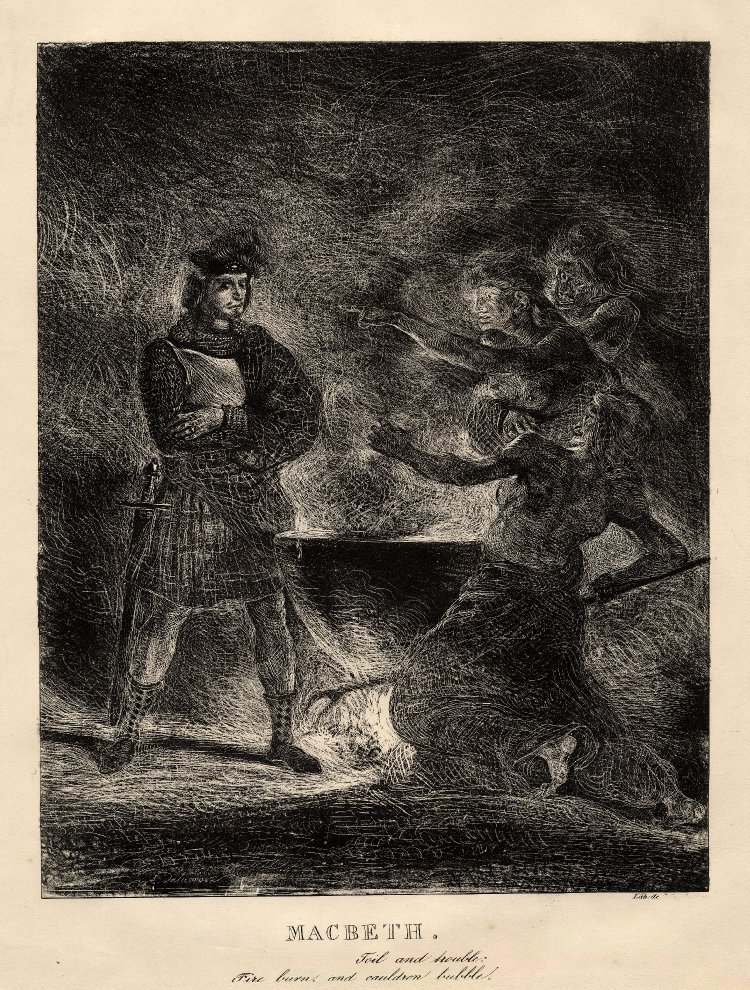 Print made by Eugène Delacroix 
Date
1825
Macbeth consultant les sorcières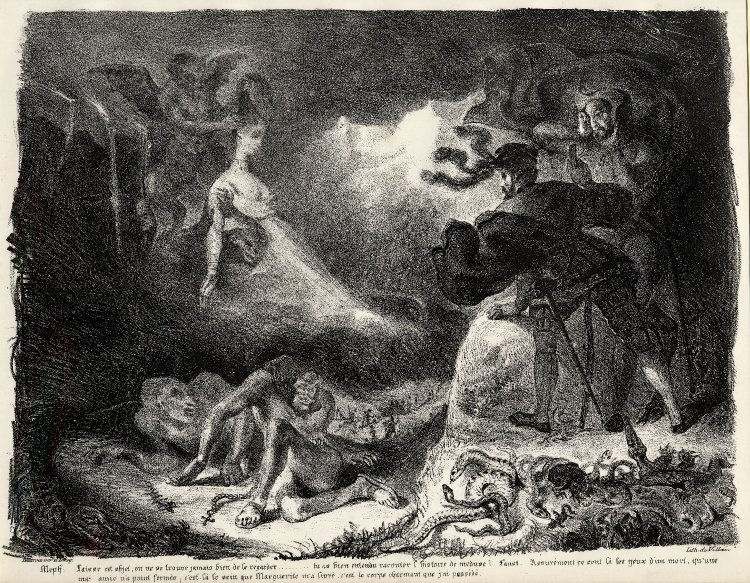 Print made by Eugène Delacroix
Walpurgis Night: standing behind a rock, Faust beholds an apparition of Marguerite (Gretchen) held by winged demons, her neck marked by a ring of blood; Mephistopheles is next to him and advises him to look away; around them snakes, witches, and other figures. 1827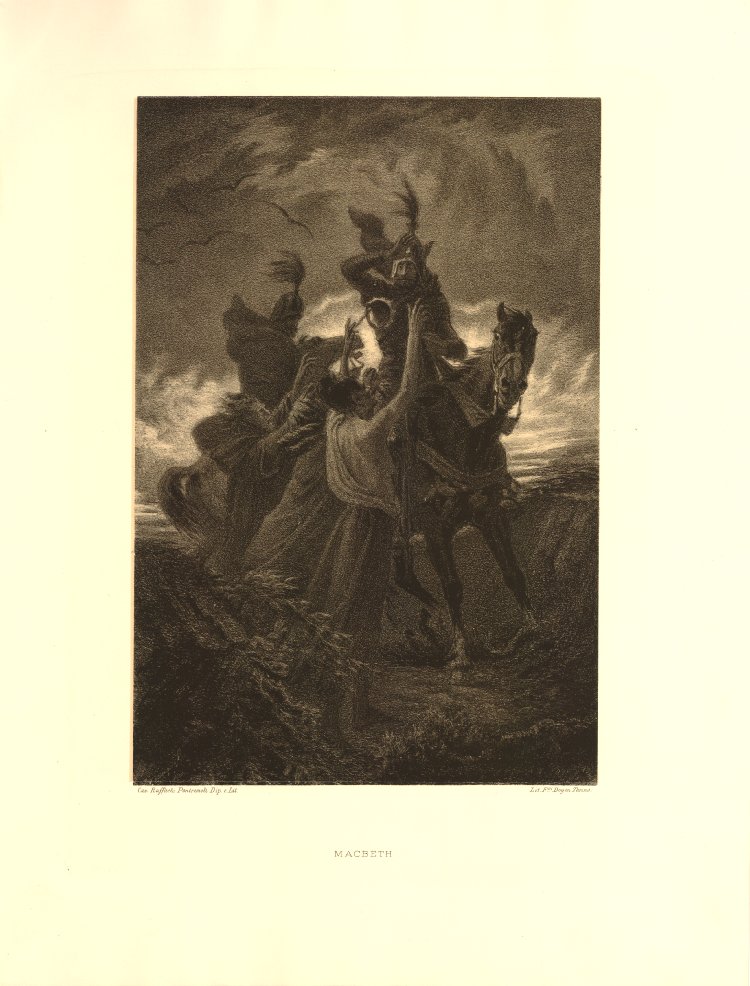 Published by Fratelli Doyen 
Print made by Raffaele Pontremoli 
Date
1840-1870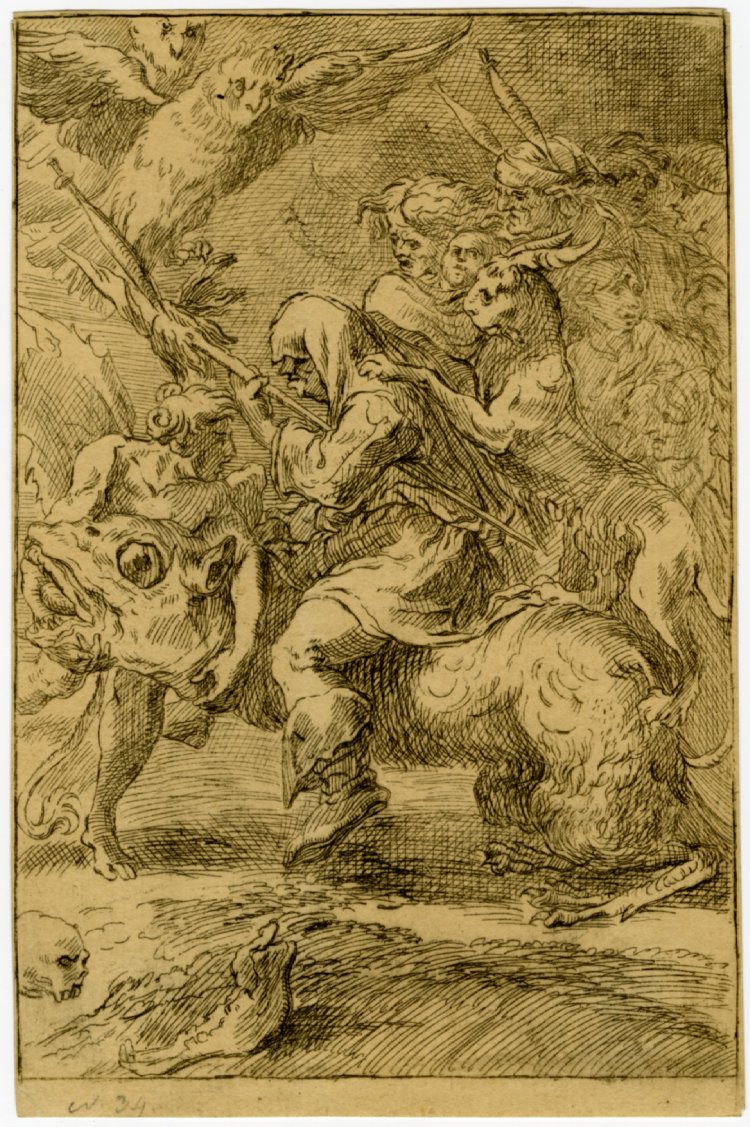 The witches' sabbath; a hooded witch rides a monster which is held by a winged demon, figures to the right, an owl in the upper left corner, after a print by Picart after a composition by Parmigianino (?). c. 1732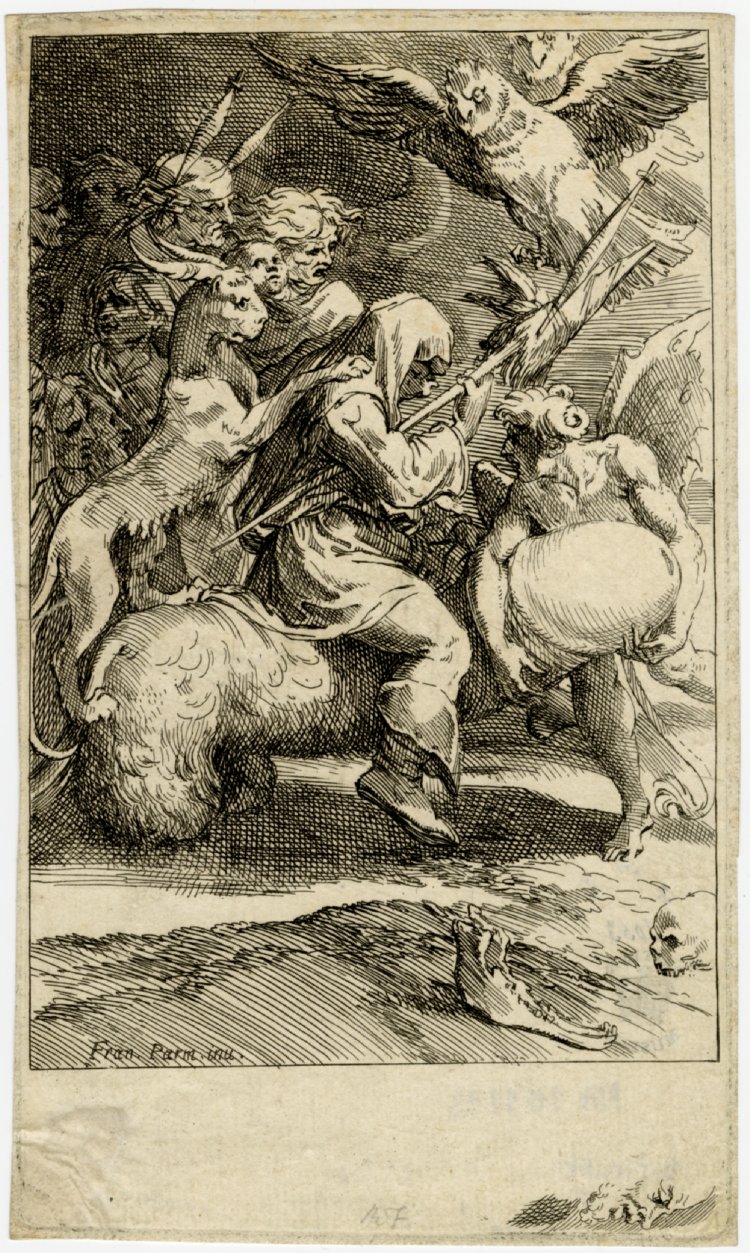 The witches' sabbath; a hooded witch rides a collosal phallus which is held by a winged demon, figures to the left, an owl in the upper right corner, a caricature of man's face in profile on the bottom margin of the print, after Parmigianino (?). c.1732




John Faed (1820-1902)
Tam O'Shanter and the Witches
Print
Public collection


-----------------карикатуры-----------------------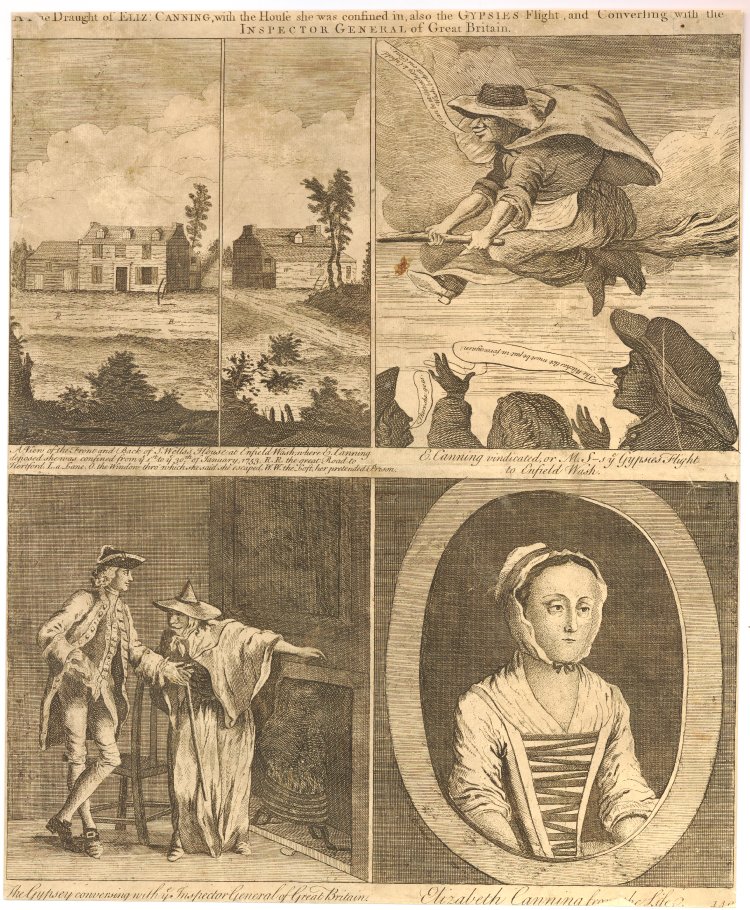 A True Draught of Eliz Canning, with the House she was confined in, also the Gypsies Flight, and Conversing with the INspector General of Great Britain
1753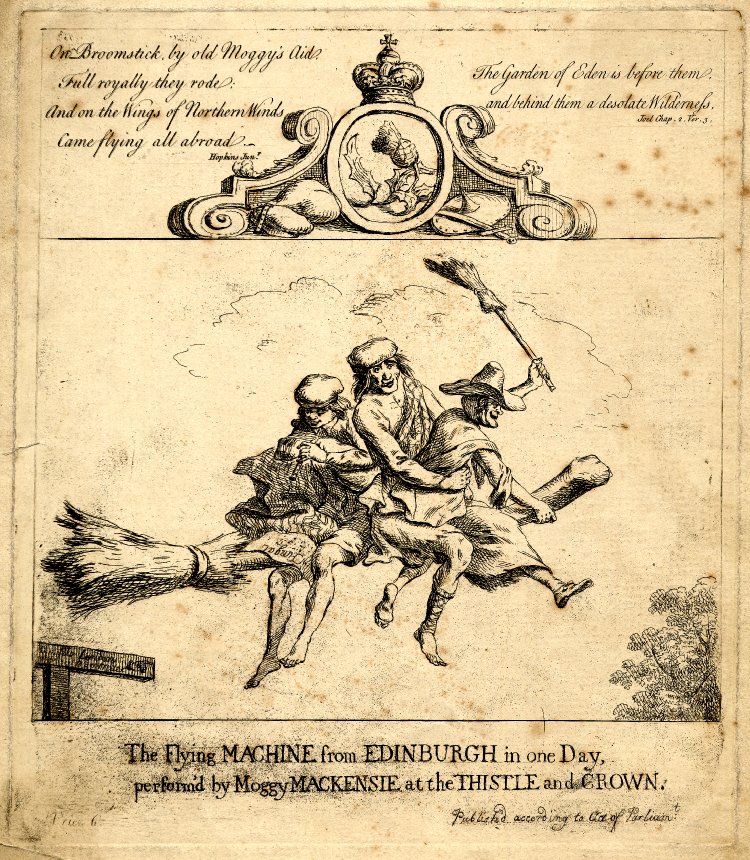 The Flying Machine from Edinburgh in one day, perform'd by Moggy Mackensie at the Thistle and Crown
Satire of a witch carrying two Scotsmen on a broomstick from Edinburgh to London: see BMSat for full description. 1762
Print made by Paul Sandby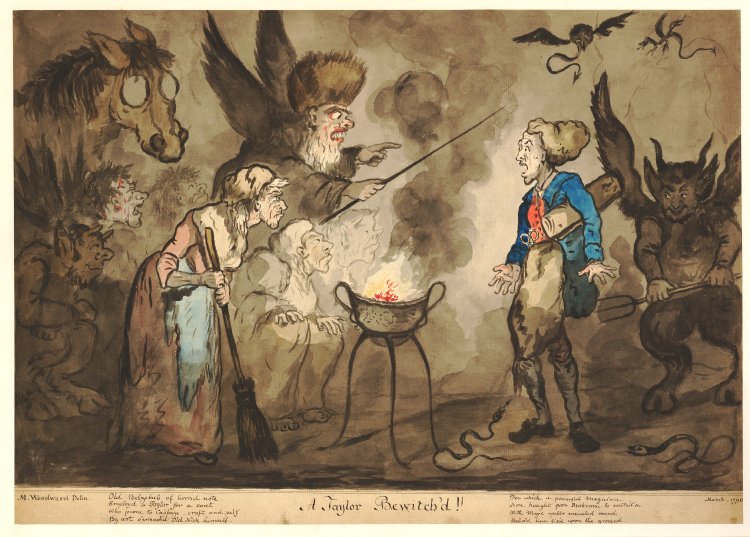 A tailor bewitched; tailor to right carrying roll of cloth under arms, is prodded by demon behind him holding pitchfork, two snakes at his feet, cauldron in centre with winged magician to left surrounded by three witches. 1790
Drawn by George Moutard Woodward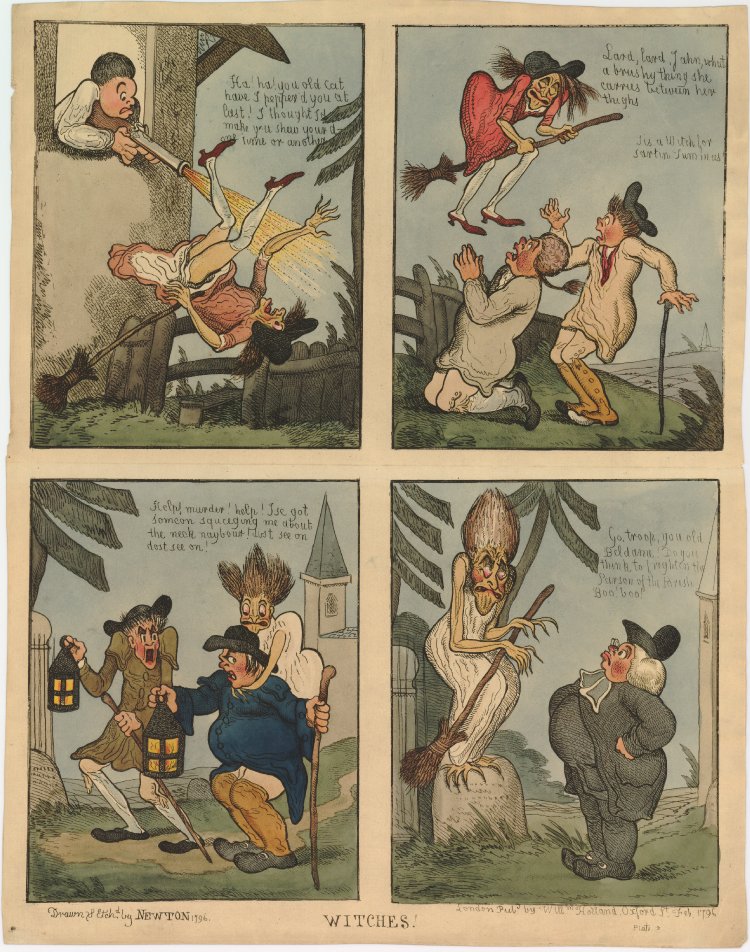 Print made by Richard Newton 
Date
1796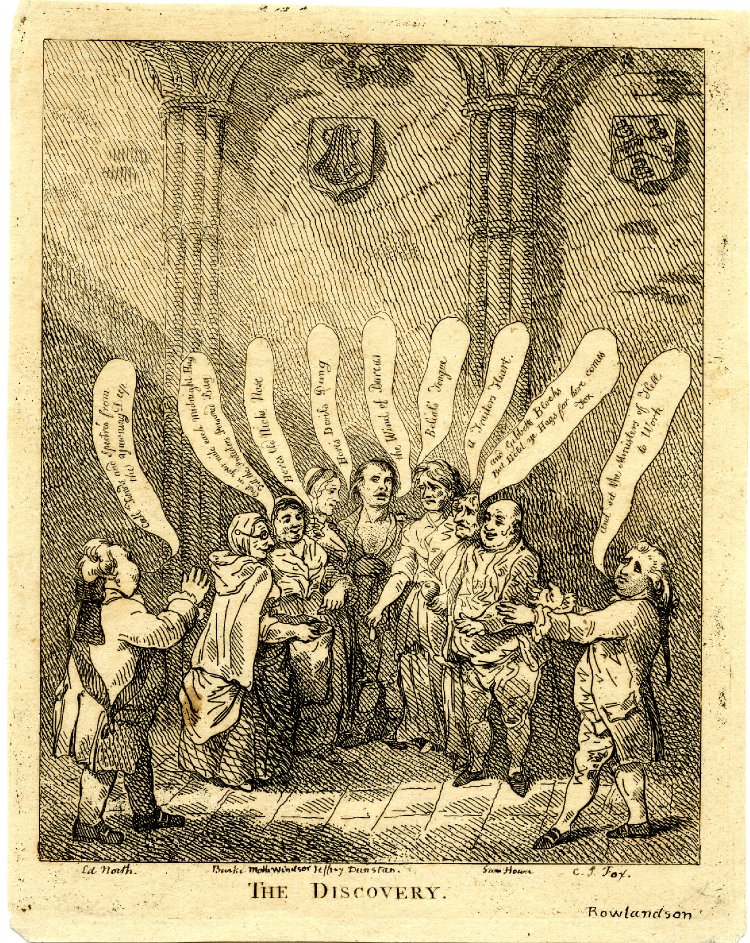 Print made by Thomas Rowlandson
Date
1784
Endor, with other witches and other supporters of Fox, who have met in Westminster Hall on 14 Feb. to prepare for the meeting on that day, see BMSat 6421, &c. North addresses the Witch of Endor, saying, "Call Fiends and Spectres from the Yawning Deep". The Witch, in profile to the left, addresses her companions to whom she holds out a bag
Ведьмы. Графика.15-19 век-ТУТ
---